GOVT/COLL 400 Seminar Visits Court, Meets with Justice Kagan
As a capstone to their fall semester, William & Mary students from Professor Christine Nemacheck's senior seminar, Crime & Punishment: The Supreme Court, Politics & Criminal Justice, visited the U.S. Supreme Court in December. This trip to the highest court in the nation included the opportunity to sit it on oral arguments, tour the Court's building, and an extended conversation with Justice Elena Kagan.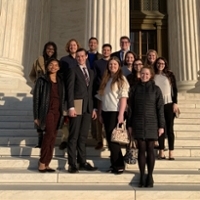 For students studying opinions and precedent of the Court this semester, this opportunity was once in a lifetime. The chance to see the justices in action brought to life the material and justices they had been studying. The lively discussions during arguments showcased the passionate discourse of law at the heart of the students' coursework.
"Spending the day at the Supreme Court was an incredible experience. Between hearing oral arguments of the cases for the day, meeting and speaking with Justice Kagan, and the private tour of the Court, I couldn't have asked for a better experience," senior Evan Oldshein said.
Getting to see the highest judges in the land analyze arguments and question the attorneys was truly a once-in-a-lifetime experience. Even though we had a very early start to our day, it was a day that I'll never forget."
The class had the privilege of speaking with Justice Elena Kagan and asking her questions regarding her perspective on the law and her career. While the judicial branch is frequently cited as the most mysterious branch of the federal government, this interaction provided students a humanizing interaction with a preeminent member of the legal community.

"Visiting the court was an eye-opening experience. You read the Court's opinions, you hear the [audio recording] from their arguments, and you hear about what the justices are actually like, but seeing it in person makes all of that real," senior Sikander Zakriya said. "We had the privilege to listen to two oral arguments presented before the Court and watching the justices' reactions, the lawyers, quick rebuttals, and the 'ooohs' and 'aaahs' of the audience greatly enhanced the experience of just listening to the audio."
In addition to learning more about the United States' federal court system, this trip demonstrated just what is possible with hard work and an appreciation for the minutia of the law. For many of the seniors in the class, it was a welcome opportunity to remind themselves of lofty career aspirations at the end of a busy semester.
"I thoroughly enjoyed my experience. This opportunity reminded me just how far my education could take me," senior Ka'myia Gunn said. "I enjoyed applying my knowledge to real world cases and exploring the Supreme Court."