Alumni Updates
Recent Alumni Submissions
We post alumni updates as we receive them. Use our handy online form to send us your news! You can also find alumni news in our newsletter and in our news archive.
For updates received in previous years, check out the categories of class years in the left menu.
Andrew Hollomon, '97 (Art History), Andrew shares the news that Quinn Evans, an award-winning planning and design firm with offices throughout the Mid-Atlantic and Midwest, has announced that Andrew Hollomon has joined the firm as chief technology officer. Hollomon, who has more than 20 years of experience in technology and telecommunications infrastructure management in the architectural profession, will lead Quinn Evans' firmwide information and design technology team. Hollomon, who previously served as director of technology for ZGF Architects, brings large-firm expertise in digital design and technology strategies, selection, and support to Quinn Evans. He will assess future technology and data needs while creating solutions for resilience and multi-office growth and productivity. "Andrew has been a national leader in synthesizing information technology systems and products to support high-end design collaboration and delivery," says Alyson Steele, FAIA, LEED AP, executive vice president and chief design officer for Quinn Evans. "He will lead our firm in our commitment to integrate design, information, and business technologies and tools throughout our practice and provide clients with responsive and informed planning and design solutions."
Hollomon holds an M.S. degree in information and telecommunications systems (2005) from Johns Hopkins University and a B.A. degree in art history (1997) from the College of William and Mary. He is a member of the American Institute of Architects' Large Firm Roundtable CIO Group and AECIT Leaders.
Gabriela MacPherson,'19 (Art & Art History minor, Anthropology), Gabriela writes: I am currently working at the New York Immigration Coalition, a non-profit that advocates for immigrants across New York state. In my role, I organize legal training courses for immigrant-focused non-profits to help expand access to quality, low-cost immigration legal services. I am so grateful to the Art History program at William & Mary for teaching me to look at urban complexities through the lense of design. This added a vital nuance to my perspective on the social justice issues I encounter in my work, and gave me a new way to analyze my own relationship with the city. (April, 2020)
Sophie Higgerson, '19, (Art History minor, European Studies), Sophie writes: After graduating in May, I moved to DC for a "professional gap year" to explore potential career paths. I spent the summer as a Junior Fellow at the Library of Congress, where I catalogued printers' ornaments from a collection of 18th century French legal documents. In the fall, I entered the Advanced Level Program at the Smithsonian American Art Museum, through which I have interned in both the registrar's office and the research and scholars center. This September, I will begin working towards my PhD in the History of Art and Architecture at Brown University and intend to continue my undergraduate focus on 19th century European architecture and urbanism. I am so excited to return to school and pursue my passion for research that was nurtured at William & Mary. (April, 2020)  
Natalie Walter, '18, (Art History, German Studies), Natalie writes: After graduation in 2018, I completed a Fulbright English Teaching Assistantship in Berlin, Germany, where I taught English at a German elementary school for a year. In the summer of 2019, I began my Master's in Historical Urbanism at the Technical University of Berlin. This program focuses on the historical development of urban areas worldwide as well as contemporary issues and practicalities. I love it!  I owe not only my interest in Urban Design and the Built Environment to the Art and Art History Department, but also my ability to analyze urban issues through a historical lens and appreciate contemporary developments. And honestly, I genuinely just enjoyed my classes and am so thankful I had such a special, warm and invigorating undergraduate experience, which is all due to the faculty in this department! (April, 2020)
Lovisa Magnusson Odelstierna, '17 (Studio Art) Lovisa writes: Since departing William and Mary, I immediately dove into the workforce at IBM in Washington DC a few weeks after my graduation. There I was a consultant for United Airlines, which was installing a new internal system for their major American hubs. I provided expertise on visual communications/marketing, reported pain points of their new product, and traveled between five cities in five states on a weekly basis. However, I felt that I wanted to trace back to my artistic roots that I grew at university, so I left IBM to join a travel analysis startup, Data Visualization Intelligence, as a UI UX Designer. I host meetings between executives and developers to plan enhancements and wireframes for our products as well as provide those said deliverables. In addition, I also create graphic designs for our conferences, marketing, and sales presentations, which constantly challenge my creative juices. Since the start of the pandemic, my company has had to reduce hours, so I am taking the time to enhance my HTML and CSS programming skills as I prepare to relocate to the windy city of Chicago. There I hope to continue my UI UX work, either in the travel industry or another creative environment. I honestly am thankful for my William and Mary education for pushing me to explore and adapt to a variety of subjects as well as challenge me to dig into my artistic hobbies. I did not think I would be able to work with art and design, but by my graduation, I had the confidence to pursue those interests for my career. (April, 2020) 
Tianchu Gao, '17 (Art History) Tianchu writes: I am now finishing the MA program of Art History at the Ohio State University and will continue my study of modern Chinese art in the Ph.D. program. (July, 2019)
Kexin Ma, '17 (Art History) Kexin writes: Last year, I completed my Master's degree in History of Art and Archaeology of East Asia at the School of Oriental and African Studies, University of London. Starting from this September, I will be studying in the MPhil/ PhD program in History of Art and Archaeology offered by the same school and engaged in research on a Yongzheng period handscroll entitled Guwan tu (Pictures of Ancient Playthings). (July 2019)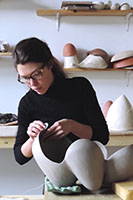 Zoe Powell, '16, (Studio Art, Biology), Zoe writes: Upon graduating from William & Mary, I completed two artist-in-residence programs focused on wood-fired ceramics and locally-sourced clays: one at the Cub Creek Foundation in rural Virginia and the other at Cobb Mountain Art & Ecology Project in Northern California. After completing these residencies, I moved to Saint Paul, Minnesota, where I opened my own ceramics studio and gallery, Studio Alluvium. Now, whenever I am not working towards an exhibition, I work on commissions for restaurants and travel around the country teaching local material workshops to other ceramics students." (April, 2020)
www.zoepowellceramics.com
www.studioalluvium.com
Avery Siler, '16, (Art History) Avery writes: After graduating in 2016, I spent several years working for environmental non-profits. First, I handled conservation easement acquisitions and region wide outreach for conservation programs at a small land trust in Pennsylvania. I then found my way to DC and raised major gifts for The Nature Conservancy. This fall, I'll begin a Master's program at Yale's School of the Environment where I will study how conservation can be used as a tool for equity. I appreciate William and Mary for so many things, from the research and writing skills I honed there, the professors who took an active interest in helping me achieve my goals even after graduation, and the art history knowledge I gained that makes my frequent trips to the National Gallery in DC even more fulfilling. Perhaps most importantly, I'm grateful for the smart, funny, vibrant community I met at WM, many of whom remain my close friends to this day. (April 2020)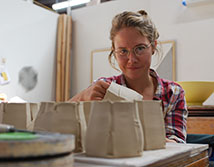 Katie Fee, '16 , (Studio Art), Katie writes: Since graduating from W&M, I have pursued professional opportunities to manage community studios, operate atmospheric kilns, teach art, and push my own studio practice.  Currently, I am an Artist-In-Residence at the Morean Art Center in St. Pete, FL, where I have a studio space, manage their kiln yard, and teach both children's and adults ceramics classes. My work is represented online by ClayAKAR, Companion Gallery, and In Tandem Gallery. (April 2020) www.katiefee.com  
Briana Chaney, '15 (Studio Art, Marketing) Briana writes: I just moved to Colorado in July, and I am working as a Marketing Coordinator for a subcontractor in the booming Denver market. I create digital designs for our business collateral, take progress and completed project photos, and I write content for press releases and social media. (Oct 2017)
Iren Tete, '13, (Studio Art minor, Kinesiology and Health Sciences) Iren writes: I am a Visiting Faculty in Ceramics at Alberta University of the Arts in Calgary, Canada. I hold an MFA in Studio Art from the University of Nebraska-Lincoln and a BS in Kinesiology and Health Sciences from the College of William and Mary. I equally call Sofia, Bulgaria and Washington, D.C. home. My work has been shown nationally and internationally, as well as published by Friend of the Artist and Create! Magazine. Recently, I was selected as an Emerging Artist by Ceramics Monthly Magazine. I've received multiple grants that have supported my practice and research. During the summer of 2018 I was able to further my study of Brutalist theory and architecture through a residency at the Zentrum fur Keramik in Berlin, Germany. I have also completed residencies at the University of Cincinnati (Cincinnati, OH) and the Northern Clay Center (Minneapolis, MN). (April, 2020) www.irentete.com
Barbara Pearsall, '13, (Studio Art), Barbara writes: I am an artist, living and working in Brooklyn, NY, and I combine research, sculpture, installation, and photographs to explore the structures that create the American West. By considering the ways language and matter created the conditions for the landscape that we maintain as the West, I shape a network of connections explaining how the desert terrain has become a manufactured space. My most recent bodies of work come from a year-long, primarily field-based, investigation into the West. The work complicates the idea of land remaining, land that has not been formed and determined through production and waste, either imagined or material. This past year, I attended the Ucross Foundation, the Jentel Foundation, and the Land Arts Artist Residency programs, and I was awarded a Jerome Foundation grant and residency at Saint John's Pottery. I hold a Bachelor of Arts in Art and Art History from the College of William and Mary. (April, 2020) https://barbarapearsall.com/
Katherine Hughes, '12 (Art & Art History minor) Katherine writes: I have recently joined the American Wing at The Metropolitan Museum of Art as the Decorative Arts Trust Research Scholar, working on the exhibition, "Stories in Clay: Stoneware from Edgefield District, South Carolina," scheduled to open October 2020. This will be the first major exhibition in the American Wing of The Met to feature southern and African-American pottery. (Mar 2019)
Kiernan Lofland, '10 (Studio Art) Kiernan writes: I graduated in 2010 with a BA in Art and Art History. In 2014 I completed an MFA as a Meadows Fellow from Southern Methodist University. I helped co-found 100W Corsicana, a residency hosting national and international artists and writers in Corsicana, TX. Recently, I have taught at both the University of Nebraska Omaha and the University of Nebraska Lincoln, where I directed the Eisentrager-Howard Gallery. (Mar 2019) kiernanlofland.com