What archaeology tells us about the site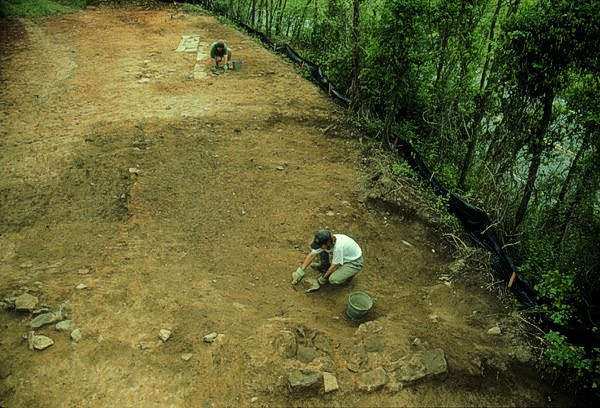 Archaeology findings at this site offered an unprecedented view of early historic settlement in the southern part of the Shenandoah Valley thanks to three factors. First of all, there was a rich historical record from documents that gave dates and names to go with what is in the ground. Second, remains of this farm were very well preserved beneath the ground, including not only traces of buildings but thousands of utilitarian and personal household items. And, third, the below-ground evidence represented different periods of occupation, which allowed us to examine changes in farm life over a long span of time.
The major features of the site were remains of at least two buildings, some scattered trash-filled pits, fence lines, and a well. Together, these represent the core of the historic farm site. It is not certain whether one of the buildings was built much earlier than the other, but it is clear that the lower building was abandoned first. Artifacts found in the cellar of this structure indicate that it ceased to be used by about 1830. We were able to tell this from the styles of the objects that were left there, such as pieces of ceramic bowls and plates, and glassware. More than likely, this building and the artifacts with it are associated with the first occupations of the site, or that of the Rusmeisel and Holt families. Historical records indicate that a later abandonment may have occurred.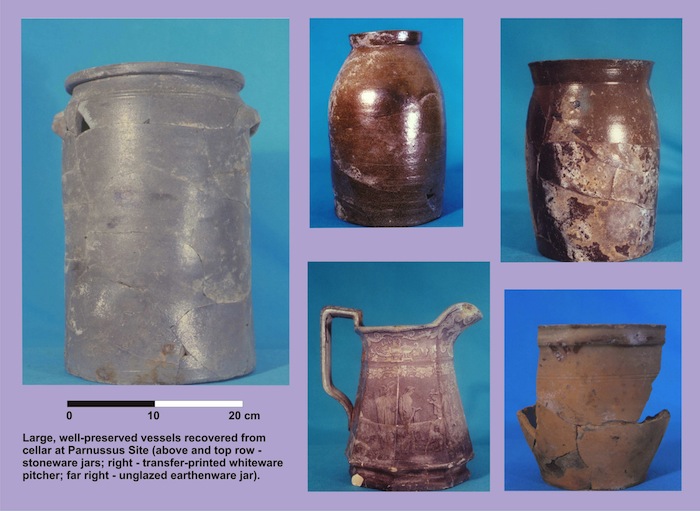 The larger, upper building was not abandoned until the 1880s. Records indicate that the newer structure was built by William Kyle in the 1850s, perhaps to replace the older Rusmeisel-Holt dwelling. The excavation revealed that this building burned. Artifacts and other evidence in the cellar do suggest that it was a catastrophic fire, possibly occurring when Frank Harlow lived there. Many household items like large ceramic storage crocks remained upright and intact on the cellar floor. With them, too, were the remains of barrels, piles of walnuts, animal bone, and fabric. Apparently, the fire swept through the building so quickly that it was impossible to remove the contents. The effect for archaeologists was something like a small-scale Pompeii, where everyday things were discovered in the cellar's ashy deposit just as they were left at the time of the fire over a hundred years ago.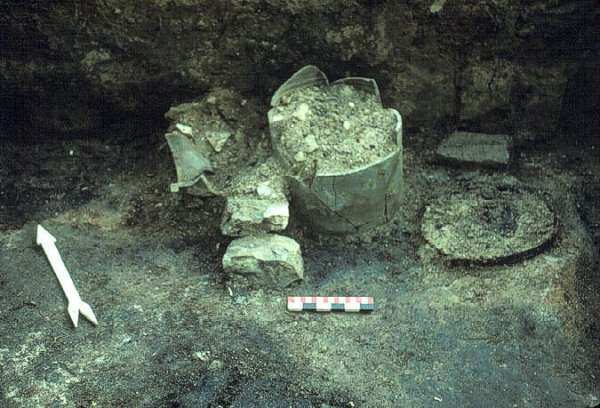 After the excavation was completed, another stage of archaeology began in the laboratory. All of the artifacts were carefully analyzed along with the field results to prepare a final interpretation. One especially interesting aspect of the study was chemical analysis of locally made pottery to better understand the unique production and marketing system of Valley potters that once flourished in the area. Overall results were put in regional context to provide important details on local economic history. 
View the final report (pdf).