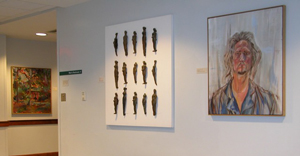 Works in the President's Collection of Art are generally installed in locations that are not subject to vandalism. Care is taken to install works safely in areas that do not have the potential for ordinary dangers such as contact with backpacks, food or cleaning equipment such as vacuums or floor waxers.
Works on paper are typically not installed in direct sunlight or light-filled areas. To the extent possible, all works are installed with a preventative conservation approach.
Installed art from the Collection is subject to periodic inspection and inventories.