A large number of requests from various departments at William & Mary demonstrate the desire and need for the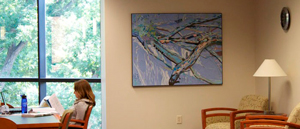 President's Collection of Art. Because the demand has been quite high, the Collection is on constant exhibition and requests often exceed the number of works available. As more works are added to the Collection or are rotated within the public spaces, art will become available.
For further information or for requests for campus art, please contact Melissa Parris, Curator of the President's Collection of Art at [[mmparris]] or 757-221-2704. When requesting via email, please include your location and a brief description of the space where art is desired. See Site Selection for criteria.