William & Mary Homecoming & Reunion Weekend set for Oct. 19-22
Next week, alumni from around the globe will come home to William & Mary to celebrate and reconnect with classmates and their alma mater. There are many exciting events in which the entire William & Mary and local community is invited to participate, including the annual Homecoming Parade, which will take place Friday, Oct. 20 at 4:30 p.m.
For those planning to attend festivities in the afternoon of Oct. 20, please note that the parade route will begin on North Boundary Street before coming up Richmond Road, turning onto Dillard St. and proceeding down Ukrop Way to Kaplan Arena.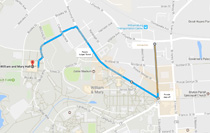 Serving as this year's parade Grand Marshals will be Lynn Briley '71, Janet Brown Strafer '71, M.Ed. '77 and Karen Ely '71, the first African-American students to live on campus. This year William & Mary is commemorating 50 years of African-American residential students with events throughout the school year, and on Saturday, Oct. 21, three memorial bricks will be dedicated at the Alumni House in honor of these three trailblazing women. The Homecoming Grand Marshal is an honorary position filled by distinguished alumni and friends of William & Mary. The Grand Marshals receive recognition throughout Homecoming and ride in the lead car during the Homecoming parade.
Announcing the parade and narrating the live stream will be David Culver '09 and Kay Floyd '05. Culver is anchor of the Saturday edition of NBC News4 Today and a reporter with News4's Northern Virginia Bureau in Washington, D.C. Floyd is a member of the Alumni Association board and is a visiting fellow at the Department of Justice.
Other highlights of Homecoming include:
Class Reunions: There will be plenty of opportunities to reminisce with college friends and reconnect with classmates. To find out more about reunion year parade watches, class photos and reunion receptions, go to homecoming.wm.edu.
Affinity Group Reunions: This year, there are more opportunities than ever to connect with alumni who share your interests and affiliations. For the complete list, go to homecoming.wm.edu.
Virginia Uncorked: Friday, October 20, 7-11 p.m. in the Sunken Garden, featuring live music, food trucks (pay-as-you-go) and tastings from Virginia breweries, vineyards and distilleries ($30 per person, $10 for non-tasting admission).
Children's Carnival: Saturday, Oct. 21, noon-3 p.m., enjoy this family-friendly carnival featuring inflatables, face painting and more.
Homecoming Tailgate: Saturday, Oct. 21, noon-3 p.m. in the Sunken Garden with food and music ($30 adult/$10 child).
W&M Football Game: Saturday, Oct. 21, 3:30 p.m. at Zable Stadium. The Tribe will take on the James Madison University Dukes. Call (757) 221-3340 to purchase tickets.
Saturday Night Bash: Saturday, Oct. 21, 9-11:30 p.m. in the Sunken Garden. Dance the night away to the sounds of Attraction — an eight-piece party band that plays everything! Dancing not your style? There is plenty of space to mingle, enjoy late night snacks and beverages and spend time with old friends! ($35 per person)
William & Mary expects thousands of alumni, students, faculty, parents and friends of the university to participate in this year's extraordinary Homecoming & Reunion Weekend.
A complete list of campus events and prices are available 
online
.