Comedian Todd Barry to perform at W&M
Comedian Todd Barry will perform at William & Mary Oct. 21 as part of the university's Homecoming & Reunion Weekend.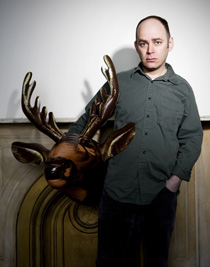 Sponsored by Alma Mater Productions, the show will begin at 8 p.m. in the Sadler Center's Chesapeake Room. It is free to faculty, staff and students with identification and $10 for general admission. Tickets will only be available for purchase at the door, which opens at 7 p.m.
Barry has made numerous stand-up appearances on shows including The Late Show with David Letterman, Late Night with Conan O'Brie and Jimmy Kimmel Live. He has also been on Louie, Bored to Death, Tim and Eric, Chapelle's Show and Sex and the City as well as two Comedy Central specials. Barry is also widely recognized as the "Third Conchord" from HBO's Flight of the Conchords.
The show is one of numerous special events planned for W&M's 2017 Homecoming & Reunion Weekend, Oct. 19-22. More information about those activities may be found online.