Become a Fitness & Wellness Instructor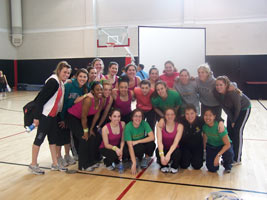 Non-Student Application
Non-students interested in working as a Fitness & Wellness Instructor for William & Mary Campus Recreation can apply through this application. If you have any questions about the non-student hiring process, please reach out to [[jvrueh, Jenny Dunfee]], Associate Director of Fitness & Wellness.
Student Application Process
William & Mary Campus Recreation conducts Fitness & Wellness Instructor Hiring every fall and spring. Individuals do not have to have a national fitness certification in order to be hired as Fitness & Wellness Instructors at the Student Recreation Center. However, once hired, Instructors must obtain a national Group Fitness Instructor Certification before they can teach on their own. The Campus Rec in-house Fitness Instructor Training Course prepares students to take the American Council on Exercise Group Fitness Instructor Exam to become nationally certified Group Fitness Instructors. Students that have not taken the FitWell Instructor Training Course when they are hired will be required to take it while on staff.
Once hired, Instructors will be considered "Fitness Instructors-In-Training" and will team-teach classes with returning Instructors until they are ready to teach classes on their own.
Fall 2021 Interview/Audition Process

Those who submit an application will be contacted by our Fitness & Wellness Class Supervisor with an audition time. Applicants have the option to virtually audition for the following formats: Les Mills Body Pump™, Body Combat™  and GRIT™ , Barre, Cardio Dance, Pilates, and Yoga. Applicants may audition for more than one type of class. Applicants will receive an audition time slot when they submit an application.
Fall 2021 Fitness & Wellness (FitWell) Instructor Hiring Dates:
FitWell Instructor Interest Session (virtual): Tuesday, Oct. 12th at 7:00pm. Learn about the job and get a chance to talk with current Fitness & Wellness Instructors. Email Maddy Havranek at mrhavranek@email.wm.edu to sign-up and get the virtual link.
Practice Sessions (in-person) for applicants will be held in Miller Gym, Court #3, Bee McLeod Recreation Center:

Monday, Nov. 8th, 8-9pm
Wed, Nov. 10th, 7-8pm
Sunday, Nov. 14th 1:30-3:00pm

Application Due: Friday, Nov. 12th at 5:00pm. Click here to fill out an application. 
Auditions (in-person): Tuesday, Nov. 16th from 5:30-7:30pm.
Interviews (virtual): Friday, Nov. 19th (for those who get a call-back after auditions)
Fitness & Wellness Instructor Job Description
Fitness & Wellness Instructor Job Description
Fitness & Wellness Instructors are responsible for leading safe and effective fitness & wellness classes for the Campus Recreation Department. They are to design enjoyable classes that encourage participation and educate patrons on the benefits of exercise and healthy lifestyles. Fitness & Wellness Instructors must demonstrate a positive commitment to the mission and goals of the Campus Recreation Fitness & Wellness Program.  Instructors are required to work with the Fitness Instructors-in-Training, and are encouraged to be involved with Instructor Training Sessions.
Expectations & Responsibilities
Become nationally certified before either Fall or Spring break (depending on what semester you are hired in)
Complete the Fitness & Wellness Instructor Training Course in the Fall
Attend weekly Fitness & Wellness Instructor meetings-Tuesdays @ 8:00pm (currently held in a virtual format)
Attend the Campus Rec Staff Training once/semester the day before school starts (part virtual and part in-person in small groups with social distancing)
Attend all workshops and special events that are designated as mandatory by the Associate Director for Fitness & Wellness.
Arrive ON TIME to all meetings, workshops, training sessions and special events
Maintain current CPR, First Aid, AED and national group fitness instructor certifications.
Keep up-to-date with the latest health and fitness trends. Continue your knowledge and education by attending workshops, presentations, expos, conferences, etc. to earn continuing education credits.
Maintain open and frequent communication with the Assistant Director for Fitness & Wellness, the Graduate Assistant and your co-workers and return all emails and calls in a timely manner.
Follow Campus Recreation rules and guidelines including equipment use and dress code.
Abide by the honor code.
Design and lead safe and effective group fitness classes.
Report to work at least 15-20 minutes prior to class. Have a class format prepared, bring music if needed, water, and other items you may need during class.
Keep a staff contact/phone list and know how to get in touch with all of the Fitness Instructors.
Stay up-to-date with all staff special events and programs so that you can describe them to participants.