William & Mary appreciates and respects our employees with a variety of programs. We hope that you will participate and celebrate our campus traditions.
Faculty and Staff Convocation
Annually since July 2020,  President Rowe has invited William & Mary employees to join all colleagues for a Convocation recognizing faculty and staff. Held on the Wren Yard, we honor the efforts of the past year and mark the next step in our return to campus with music, food and celebration. Everyone has the opportunity to ring the Wren Bell. We also recognize recipients of the Duke Award, the Values in Action Awards, Staff Appreciation Service Award milestones and the Aceto Award during a short ceremony.
The Charles and Virginia Duke Award
The purpose of the Duke Award is to provide recognition and financial reward for individual accomplishment and exemplary service to William & Mary. All non-student, non-instructional faculty employees of the university, or one of the contractors providing auxiliary services to the university, are eligible for consideration. Submit a nomination or view past Duke Award recipients.
Values in Action
The goal of the Value in Action program is to recognize staff and faculty whose exceptional service exemplifies William & Mary's stated values: Belonging, Curiosity, Excellence, Flourishing, Integrity, Respect and Service. All non-student employees of the university or contractors providing auxiliary services to the university are eligible for nomination. In November 2019, the university affirmed its first-ever statement of values. These values are both reflective of and aspirational for the community.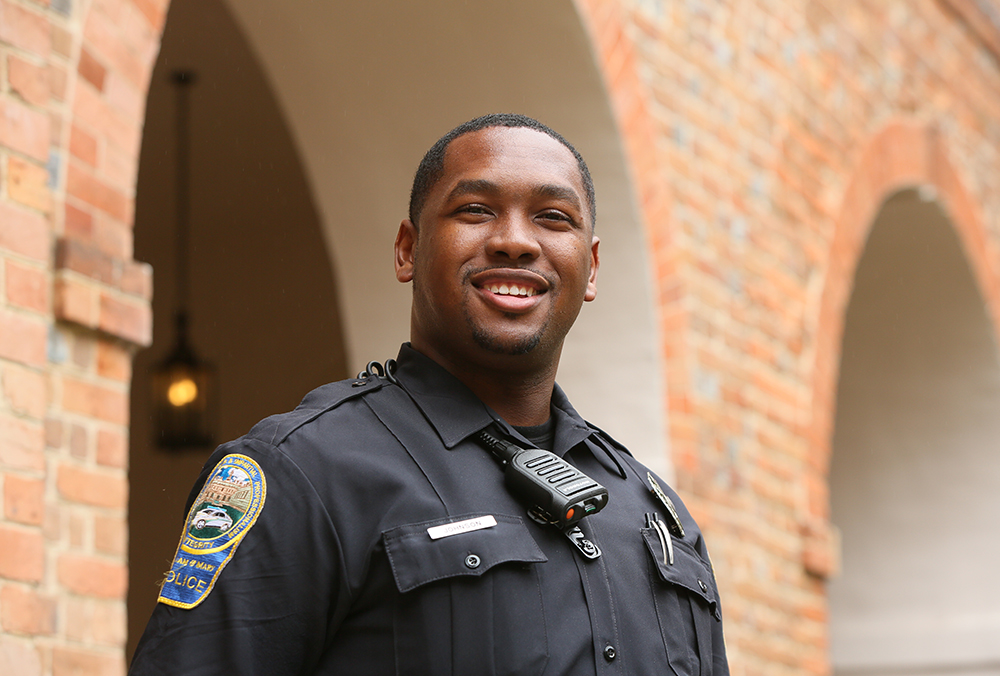 The Values in Action Award honors William & Mary staff and faculty whose efforts exemplify our values. The award is accompanied by a $2,500 cash prize for each recipient. At least two Values in Action awards will be given each semester to faculty and staff through spring 2023, reflecting an ongoing annual commitment by the donors.
Nominations will be submitted using the online submission form. In the Spring of 2023, William & Mary will recognize the exceptional work of faculty and staff with two Values in Action awards. 
Staff Appreciation Service Awards
The Staff Appreciation Service Awards is a celebration of the hard work and dedication of professional, classified and operational employees reaching milestones in their years of service. This annual event is an opportunity to recognize their accomplishments and dedication to William & Mary along with other award recipients.
2021 Service Award Recipients - 
Recognized at the Faculty/Staff Convocation in July 2022
Years of Service
50 Years of Service
40 Years of Service
35 Years of Service
Linda L. Hicks

Carla R. King-Johnson

Shelfer D. Peace

Wendy D. Urbano
30 Years of Service
Virginia M. Ambler

Amy C. Banks

Dorothy A. Brown

Jay W. Colley

Deborah L. Davenport

Helene A. Hale

Ronnie L. Hasty

Donald G. Hensley

Jeffrey S. Herrick

Sherry B. Joyner

Rebecca N. Marcus

Sean D. Pada

Manickam Ramasamy

Kathleen D. Smith

Joseph L. Washington

Darlene O. White
25 Years of Service
Blanche A. Brooks

Sandra J. Brooks

Sharon R. Brown

Felicia A. Burton

Katherine H. Davis Small

Ellen F. Dean

Edward E. Elmore

Karen L. Gillingham

Wandalyn F. Glover

Thomas F. Higgins

Peggy S. Lukas

Patricia P. O'Neill

Benjamin L. Owen

Kari-Lise Slettemoen

Ardette R. Smith

Sherree T. Walker
20 Years of Service
Willard A. Bauserman

Karla D. Beckman

Michael Blum

Amber L. Brown

Beverly A. Brown

Lila L. Brown

Cindy J. Carroll

Robert E. Chretien

Suzanne C. Clavet

Rossie C. Coleman

Frederick W. Dingledy

Diane F. Dye

Hashim K. Eleonora

Kenitha R. Futrell

Martha Howard

Deborah M. Howe

Richard J. Jolly

John S. Kane

Jennifer C. Meier

Christopher M. Norris

Meriann W. Reid

Denise R. Ridley-Johnston

Daniel R. Salvitti

Ute Schechter

John T. Thorpe

Eric J. Walter

Jaime P. Welch-Donahue

Harvey C. Williams

Sonya C. Worden

 
15 Years of Service
Roxane O. Adler Hickey

Amanda J. Beasley

Lynnette B. Bolden

Beth H. Chambers

Daniel W. Clouser

Peter P. Cruz

Donna M. DeGrace

Amy L. Detwiler

Destiny D. Elliott

Zella M. Green

Deborah A. Grosser

Pamela R. Hawkes

Sharon L. Hiner

James E. Holmes

William Horacio

Patrick S. Hudgins

Anne T. Johnson

Elizabeth J. Kiewiet

Christopher D. Lee

Joyce P. Matthews

Sharon A. Mikanowicz

Melissa K. Palacios

Ronald A. Russell

Miriam C. Saguto

Stephen Salpukas

Joshua G. Sanchez

Kristopher A. Sears

Steven M. Sikes

Vivian M. Stull

Robert R. Turner

Peter J. Van Bergen

Janice A. Whiting

Mark C. Windley

Gina C. Woodward

Erin Zagursky

 
10 Years of Service
Mayra L. Ayala

Kathryn M. Baldwin

Delrosas B. Banks

Michael D. Bartolotta

John C. Bjers

Annissia S. Bryant

Laurie A. Ciccone

Carrie L. Cooper

Jennie A. Davy

Molly L. DeStafney

Nina Earl

Rodney L. Franks

Daniel H. Frezza

Eric M. Garrison

Stephen E. Hanson

Andrea M. Harris

Cindy R. Hart

Dale H. Hayes

Karen P. Hogue

Charles L. Jackson

Robert E. Jones

Robert H. Jordan

Daneene M. Kelley

James M. Kennedy

April D. Lawrence

Mary B. Lueker

Kelly L. Metcalf-Meese

Shirley R. Mitchell

William A. Moore

Margaret J. Morrison

Patricia R. Murphy

Delora A. Nixon

Martha C. Orr

Gregory D. Outten

Marie L. Pitts

Joy R. Robertson

Towana M. Robinson

Marcyanna O. Rosa Borges

Matthew A. Rouette

Kathrin L. Shinn

Claudia Smith

William S. Stewart

Simonne M. Vance

Robert D. Waggoner

Johnny A. Wallace

Timothy A. Wolfe

 
5 Years of Service
Emily J. Avesian

Jessica H. Bacon

Elizabeth M. Bellamy

Kevin E. Bartlett

Erin E. Battle

Cenie J. Bellamy

Brenda H. Borden

Heather A. Bowers Bouchard

Angela J. Boykins

LaShauna M. Britt

Kelsey H. Brumfield

Meghan H. Bryant

Mary Bull

Kendra N. Burns

Michael L. Caboy

Erica M. Carter

Elizabeth M. Cascone

Christopher J. Chelluck

Donna Coggins

Amy C. Colley

Michael A. Comeaux

Margaret Conrad

Edwin A. Cowell

John W. Custer

Justin C. Dalton

Miriam DaSilva

John A. Dixon

Joseph Dobrota

Michael P. Dyer

Virginia B. Eacho

Virginia W. Early

Aimee S. Fitzgerald

Laura Fogarty

Tracie L. Gilchrist

Andrew Gilstrap

Sarah G. Glosson

Yvonne B. Griffiths-Jones

John L. Grober

Anthony D. Guzzo

Clay D. Hamilton

Nataki A. Hill

Eric N. Hopkins

Farley Hunter

Dwight L. Ivy

Lori L. Jacobson

Michael G. Kammer

Jayasurya Kanukurthy

Ashley R. Kee

John N. Kellogg

Henry T. Kozek

Brook Lautenslager

Alyson P. Lee

Robert H. Lester

Shelley B. Littleton

Daria V. Lorio-Barsten

Lindsey Love

Colleen J. Lynch

Michael W. Mackenroth

Bryan D. Mastricola

Kathleen E. Mazzitti

Jeanette L. Meekins

Angel R. Mori

Catherine A. Mountjoy

Anna L. Mroch

Alex Murray

Macie E. Osborn Chavers

Shene V. Owens

Alexandra G. Pappas

Sarina M. Patterson

Michael A. Powell

Wayne M. Pryor

Bojana Radden

Deborah M. Ratliff

Faith M. Ray

Wilmarie Rodriguez

Patricia S. Roy

Brooke A. Russell

Anna M. Sease

Amy Sebring

Kristen Smalley

Karyn A. Tancredi

Mary A. Trivette

Althea B. Tyler

Tina Vadas

Kristy K. Walker

Michael S. White

Stephanie J. Wilmes

Carolyn A. Wilson

Kathryn Wise

Adam Witkowski

Barbara L. Young
The Shirley Aceto Award
The Shirley Aceto Award was established to be given annually to a member of the instructional or professional faculty who demonstrates an exceptional commitment to excellence in service to the campus community. Ms. Aceto retired in 2010 after serving William & Mary for more than 39 years in the Office of the Provost. A highly regarded member of the professional faculty, she was a consistent example of exemplary service and untiring devotion to and promotion of the university, its faculty, staff and students.
Annually, one award in the amount of $1,000 will be given to a member of the instructional or professional faculty who best exemplifies the qualities noted in the selection criteria. The Provost will solicit nominations from the deans and vice presidents. Nominees must exemplify the high standards of excellent service to the university personified by Shirley Aceto.
Successful nominees will possess or exemplify:
Commitment to the core values of William & Mary
Proven leadership capabilities in working with students, faculty and/or staff
A record of outstanding individual service to the university