BNU students experience 'The American Way'
{{youtube:medium:center|5y1MrFVypWY, Beijing Normal students reflect on their five weeks at W&M.}}
Students from Beijing Normal University in China recently completed one of the most challenging periods of their young lives.
They took a five-week summer-school class at William & Mary.
Last winter, officials at Beijing Normal contacted Yangfang Tang of W&M's Confucius Institute and asked if there was a way the university could accommodate 40 students – out of a throng – who had expressed an interest in studying in the United States.
One other request: BNU wanted the chosen students' transcripts to reflect the fact that the credit hours earned were from William & Mary and that the students had been fully integrated into regularly scheduled courses.
"That's very unusual," said Dean for Educational Policy Lu Ann Homza. "We've never done that before. I was incredibly excited about it, quite honestly, because when we think about globalization and internationalization, we want it to go in two directions and not just one. It's not simply about us sending people over or outside of the United States. It's also about us receiving people from the outside."
A team of W&M representatives -- Homza, Vice Provost for International Affairs Stephen Hanson, Associate Music Professor and summer school coordinator Brian Hulse, Tang, Lei Ma and Ying Liu of the Confucius Institute and Darlene Campbell and Cynthia Flannery of the dean's office -- went to work to make it happen. They crafted a contract, found housing and tackled all of the other intricacies that would make for a successful collaboration.
When a computer malfunction hit the U.S. State Department, travel plans became jumbled to the point that the students arrived over the course of a week – not one day as scheduled – and, for a time, without chaperones.
"Had we not had the Confucius Institute on campus we would have been sunk," Homza said. "I don't speak Chinese, and it would have been far more difficult communicating those first few days without the help of the Confucius Institute."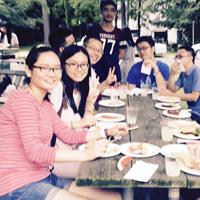 The variety of courses sought by the students was slightly surprising, Homza said. Seven chose Public Speaking. One took Beginning Acting. Two studied Sexuality; another took on the Introduction to Cultural Anthropology. Others opted for Contemporary Literature, Abnormal Psychology and International Finance/Open Economics.
Baoying Du, a Public Speaking student, wrote in an evaluation of the class that what she got most was "courage to stand in front of people and give a speech."
"Though I gave speeches before, it was completely different this time," she said, "because (I had to) conquer the fear inside of me but also be careful about my language."
Yan Kun, who also opted for Public Speaking, called the summer session "a challenging as well as satisfying period of time."
Gongping Wei described studying Organic Chemistry under Visiting Assistant Professor Dana Lashley "a brilliant experience."
Professor Brian Castleberry's Contemporary Literature course required students to read four books: The Road, by Cormac McCarthy; Fun Home, by Alison Bechdel; After the Quake, by Haruki Murakamib and Sula, by Toni Morrison.
"An unbelievable and unforgettable experience," said Jinhuan Li.
The students hailed from throughout China, including one whose home is on the China-Russia border. Several were from other rural parts of the country. As a result, they encountered a host of challenges, primarily language, food, homesickness and a strikingly different culture from their own.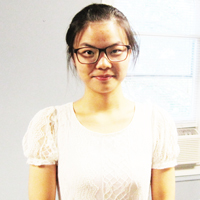 "But I gained much more than I thought through the contemporary literature's study and various extracurricular activities," said Ziwei Zhang. "The active and casual atmosphere in class (taught) me how to promote my thinking capacity. I am amazed at the native students' fantastic thinking and ideas."
Although it was clear the BNU students were here on "business," they were provided with a trip to Washington, D.C., a cruise around Norfolk and enough free time to explore the Williamsburg area.
"When I got off the bus, I was sure that I would fall in love with this town," said Gaofei Li, one of Castleberry's students. "I love this town and the College of William & Mary from the bottom of my heart."
Homza is confident that the program will continue, with even more BNU students participating.
"These 40 students had to go through months of interviews and tests before they were allowed to come over," she said. "It was super-competitive. They told me the first day that they had left behind dozens of colleagues who were so jealous and were dying to come."