W&M hosts Ambassador Thomas R. Pickering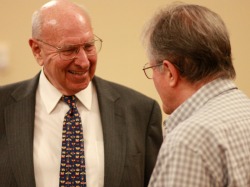 The William & Mary International Relations Club hosted Ambassador Thomas R. Pickering on Friday, April 12 as part of their inaugural intercollegiate Model United Nations conference, &MUN. 
Pickering, one of the most distinguished Foreign Service Officers in the United States, spoke in the School of Education's Matoaka Woods room to a crowd of over 250, on America's negotiation strategy with Iran.
The event represents a growing partnership between the International Relations Club and the greater William & Mary and Williamsburg communities.
 "We had high attendance from the community," noted Connor Smith '14, the Secretary General of &MUN I. "Many of the people in the audience had worked for [Ambassador Pickering] or with him."
Additionally, the topic of Pickering's speech tied nicely into the work delegates were completing for the Model United Nations conference. Noted Smith, "We were able to bring someone to Williamsburg who had a direct impact on the policy areas we worked on this weekend."
Pickering, one of America's most well-respected diplomats, served as the U.S. Ambassador to the United Nations, Russia, Israel and elsewhere and as the U.S. Undersecretary of State for Political Affairs. He was the chair of a recent investigative panel on the September, 2012 attacks on the American consulate in Benghazi, Libya which resulted in the death of, among other Americans, Ambassador J. Christopher Stevens. Pickering also served in the Iran Experts Group, which produced a 2012 bipartisan report on U.S. strategy on Iran.
A self-described "optimist when it comes to diplomacy," Pickering kicked off his speech by identifying Iran as a significant force in the Middle East, and acknowledging that the rest of the world is in awe, fear and concern about Iran's current positioning.
He commented that the U.S. response has been two to four years late in addressing the threat.
Pickering went on to provide a concise summary of Iran's political, social and nuclear history and to contextualize the current difficulties facing the United States in engaging with Iran.
"Ambassador Pickering provided really excellent background," said international relations major Connor McCann '14. "His speech helped me to understand that we can't solve the problem [of Iran] by isolation."
The ambassador then identified the four main options the international community has in dealings with Iran, containment, offensive attack, sanctions and negotiations, positing that the solution will be a combination of the four.
Pickering concluded by explaining a deal between Iran and the United States that would be most appealing to both sides. It would include Iran's pursuit of a peaceful nuclear program including the enrichment of uranium to legal levels under the Treaty on the Non-Proliferation of Nuclear Weapons, Iran's acceptance of international input, and a decrease in international sanctions on Iran. This deal, according to Pickering, would include terms both Iran and the United States could accept.
Following his speech, Pickering took questions from the audience, some so insightful that alumnus Chris Westberg '77 remarked that he "was proud of the quality of the questions asked by William & Mary students."
Connor Smith described Ambassador Pickering's speech as an "impactful opportunity for the school community to gain insight from one of the most storied diplomats in recent history."