WRL and W&M Libraries' One Book One Community returns with author Jason Reynolds
Williamsburg Regional Library and W&M Libraries are once again partnering for One Book One Community, an initiative that encourages readers to come together for a shared reading experience. This year's book selection is "Stamped: Racism, Antiracism, and You" by Jason Reynolds and Ibram X. Kendi.
This #1 New York Times bestseller is an exploration of race and racism in the United States. Virtual programs related to this title will take place throughout the months of January and February, culminating with a virtual talk from co-author Jason Reynolds on Feb. 22 at 7 p.m.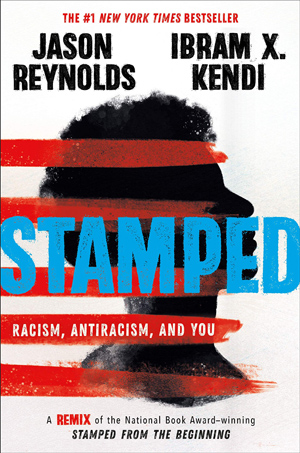 One Book One Community debuted last year, with Tommy Orange's bestselling novel "There There" as the inaugural read. This year's series will follow the same general pattern, with lectures, book group discussions and other programs taking place in the days and weeks leading up to a virtual visit from one of the co-authors.
"'Stamped' is a powerful book that provides a very accessible, very important overview of 500+ years of racism and antiracism in the United States," said Carrie Cooper, dean of university libraries at William & Mary. "Our hope is that this book will prompt thoughtful intergenerational discussion about critical issues facing our nation and our local community."
"Stamped: Racism, Antiracism, and You" is a reworked version of Kendi's "Stamped from the Beginning: The Definitive History of Racist Ideas in America." Kendi tapped Reynolds, who has won Newbury, Prin and Edgar awards for his young adult fiction and poetry, to help him "remix" "Stamped from the Beginning" in order to make it accessible to a wider audience.
The finished product is an approachable and thought-provoking survey of African-American history from the time of the first European slave traders all the way through today's Black Lives Matter movement, written in a fast-paced narrative format.
WRL and W&M Libraries have planned several opportunities for students and community members to come together and discuss the book itself and the themes it touches on. The series kicked off on Jan. 13 with "Learning about Racial Trauma," a presentation by Chloe Edwards, the advocacy and engagement manager for Voices for Virginia's Children, whose specialization is trauma-informed care and equity.
Next up, on Jan. 26 author Bill Sizemore will share his experience confronting the legacy of his slave-owning ancestors. Sizemore traced the descendants of the people enslaved by his family through the Civil War, Reconstruction, Jim Crow, the Great Migration and the Civil Rights movement. His book, "Uncle George and Me," was the result of his eight-year search and his growing understanding about how self-induced amnesia on the part of people in his position prevents a dialogue about slavery and its ongoing and crippling effects.
Barbara Hamm Lee, host and executive producer of WHRO's "Another View," will moderate a Jan. 27 discussion about race and racism, its history in our region and its current effects. Participants are encouraged to join this conversation with their own ideas and questions.
On Feb. 4, W&M Associate Professor of Education Natoya Haskins will offer conversation starters and strategies to help families have meaningful conversations about race. This program is meant to be a jumping-off point for parents and guardians of tweens or teens who are just beginning to come into a fuller understanding of these complicated and difficult topics.
A few programs will take place after Reynold's virtual visit, as a way to close the conversation and offer some next steps. On Feb. 24, Amanda Lynch, a trauma informed specialist, will give a talk on healing from racial trauma through self-care. She will help attendees with accessing resources to help with healing from the wounds of racist actions.
Finally, on Feb. 25 there will be a talk highlighting organizations around the region that are working towards racial justice, reconciliation and progress towards an anti-racist society. This presentation will include information about their current work and how to get involved.
"We have received a great deal of feedback over the past year that racism and racial justice are topics this community wants to engage with more deeply," said Betsy Fowler, WRL's director. "We're thrilled to be partnering with William & Mary to not only encourage people to read this eye-opening book on the subject, but also give people an outlet to work through and more deeply understand the issues it raises."
Swem Library has numerous print copies of "Stamped: Racism, Antiracism, and You" available for check-out, as well as the e-book version.
For information on the One Book One Community program, visit 
libraries.wm.edu/one-book
 or 
wrl.org/onebook
.