William & Mary common book author to visit campus and community
Award-winning author Tommy Orange, whose novel "There There" was selected by the Office of the Dean of Arts and Sciences as the common book offering for all incoming freshman, will visit the William & Mary campus and also participate in community events on Jan. 23-24 as part of the Williamsburg Regional Public Library's One Book One Community initiative. 
"The novel deals with issues of identity and displacement in the urban Native American community," said John Donahue, dean for educational policy, who coordinates the common book program. "It provides an entry point for considering issues related to diversity, equity and justice."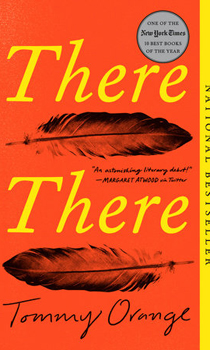 On Thursday evening, Orange will participate in an on-stage conversation about his novel moderated by Professor Danielle Moretti-Langholtz, director of the American Indian Resource Center and administrator of the interdisciplinary native studies minor, to be followed by a reception hosted by W&M Libraries. The author will spend Friday on campus meeting various student and faculty groups. His visit will conclude on Friday evening with an event at the Williamsburg Regional Public Library (WRPL). 
WRPL's new One Book One Community initiative brings readers of Williamsburg, W&M and the surrounding counties together for a shared reading experience. 
"It's really a great opportunity to bring together our campus community and our broader community," said Tami Back, director of communications and strategic planning at W&M Libraries. "It brings everyone together to read a common book and then we have discussions and different activities around that book." 
The initiative featured a lineup of events throughout January, including screenings of the Emmy Award-winning documentary "Alcatraz is Not an Island," meetings of several book groups and informative talks, and it continues with Orange's visit. 
"We're really excited to be able to bring him here," Back said. "To be able to read the book and hear from the author we think is a pretty exciting piece of the program. 
"It's been a group effort to get him here. Arts & Sciences has played a huge role, the Office of First Year Experience and the libraries of course, so it's really been a large effort on the part of the university to bring him here." 
A native of Oakland, California, Orange is an enrolled member of the Cheyenne and Arapaho Tribes of Oklahoma. 
He graduated from the MFA program at the Institute of American Indian Arts. He is a 2014 MacDowell Fellow and a 2016 Writing By Writers Fellow. 
"I want to help build momentum and get more native voices out there," Orange told the New York Times. "It's a really powerful thing to be a part of a native writing community." 
"There There," a finalist for the 2019 Pulitzer Prize, intertwines the stories of 12 Native Americans living in Oakland. It was a national bestseller and ranked as one of the Top 10 books of 2018 by the New York Times. It won numerous awards, including the PEN/Hemingway Award, the National Book Critics Circle John Leonard Prize, the Center for Fiction First Novel Prize and an American Book Award. 
It was also one of former President Barack Obama's favorite books of 2018, a distinction Orange spoke about on "Late Night With Seth Meyers." 
"The fact that he referenced it in his list is a big affirmation," Orange told Meyers.