Innovations made amid COVID ease move-in for W&M's newest residential students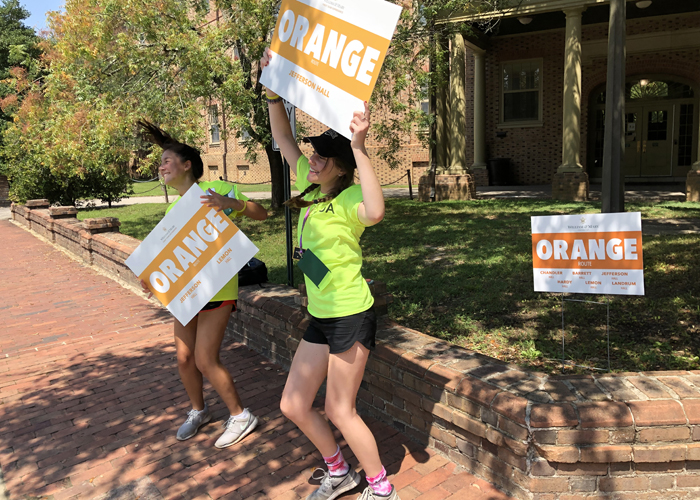 Over the course of four days, roughly 4,500 students will move into their new residences on William & Mary's campus, with new students on the first two days and formerly remote students on the following days.
The campus move-in process is one of the most highly-orchestrated events during William & Mary's academic year – and Lauren Garrett '02, is at the center of it. This year, the process will be aided by innovative move-in procedures that were developed as a result of pandemic, but are popular enough to last.
"Residence Life and our office coordinate the entire systematic process for student move-in," explained Garrett, director of W&M's Student Transition Engagement Programs (STEP). "There were all sorts of changes we made as a result of pandemic that we've found were actually great innovations, so we've strengthened them and will continue to do so going forward."
On Thursday, the mood on campus was celebratory, despite the late-summer heat. 
"I'm so happy to be here," said Kerstin Skudnigg '25, who had recently arrived in the U.S. from her native Austria. "And it's not just because I'm that much closer to a cold shower." 
Skudnigg added that she was excited to be part of such a close-knit community, while cheering groups of student volunteers helped her haul luggage and blasted upbeat music. 
"See, this is exactly why I wanted to come here, to live here and be a part of this kind of college experience," Skudnigg said.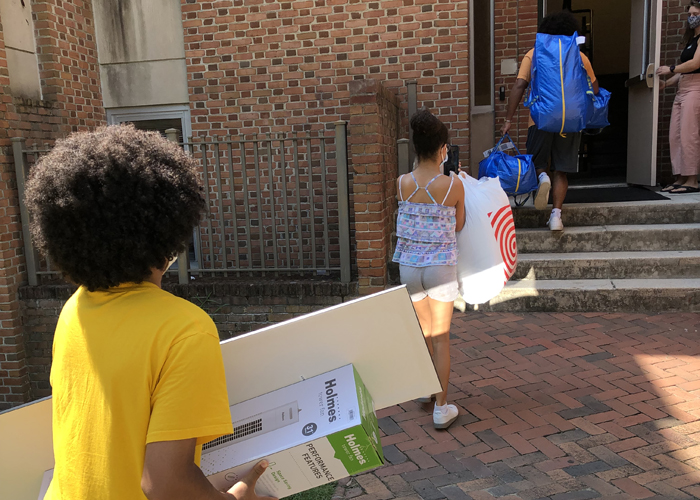 The Stewart family of Boulder, Colorado, moves in Megill Stewart '25. Photo by Adrienne Berard. View more photos in the move-in gallery.
It starts before arrival
One of the biggest changes was made to the check-in process. Before COVID-19 restrictions, all 1,600+ new students moved into their residence hall assignments within the course of four hours, with crisscrossing travel routes throughout campus, Garrett explained.
Now, residence hall check-in is done by appointment through a contactless, drive-up process to obtain keys and confirm arrival. Every residence hall is assigned a color-coded and/or named route across campus, which students use to drive to their assigned buildings to move in.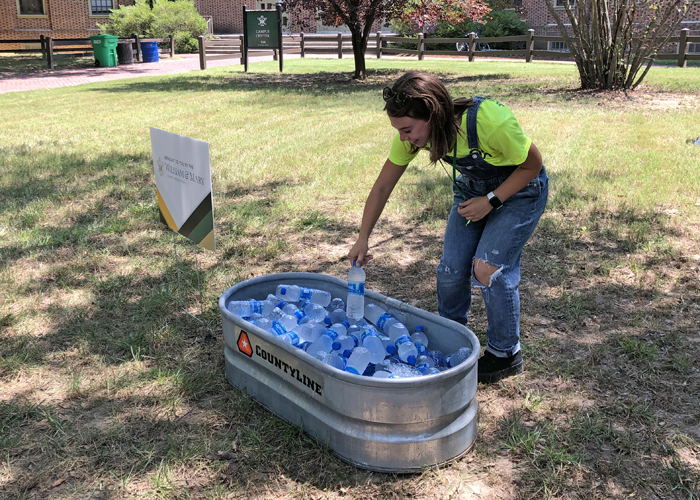 "The first time we did it, back in the fall of last year, it was so efficient and seamless, despite being a new process," Garrett said. "There was no touch. There were no rosters. We were able to move paperless in a sense, which was super, super exciting, especially when you consider the university's sustainability efforts -- and so we will definitely be keeping this system going forward."
Another pandemic-produced change was to the schedule. Previously, new student move-in took place over one day, but with the strategy of limiting density, was expanded to multiple days – and time slots are assigned to families in advance to control for overcrowding. Such a structured process worked really well, Garrett said, and it left families some "breathing room" to help students get settled into residence halls and provided time for those critical "see you later" transition conversations.
"This way, there are only so many people moving into a building at a certain point in time," Garrett said. "We actually found that people want to feel like they have the place to themselves after a day of schlepping. We'll hopefully continue to offer that staggered timing, so students and their families don't have to feel like salmon battling upstream with a suitcase."
Approximately 275 orientation aide student volunteers and 175 resident assistants work in shifts throughout the multi-day move-in, according to Maggie Evans, director of Residence Life. 
"This is the first time in a long time that we're all back together, in-person, and you can just feel it in the air," said Marie Fulda '23, who is serving as an orientation aide. "The energy is so high. When I moved in as a freshman, the students were so excited, so ready to help. All of that nervousness just disappeared. I immediately felt welcome. That's what I'm hoping to do for new students this year." 
Arrival, at last
A cohort of roughly 200 formerly remote students join new students for move-in this weekend. The students may be new to campus, but they are already a part of William & Mary's community. W&M's 
STEP team has designed a series of welcome activities specifically with those students in mind.
"This is a community-building element that we started last spring, because we had students who were fully remote for the fall semester and joining us on campus for the first time," Garrett said. The team extended orientation activities and created a series of welcome-to-campus events tailored for formerly remote students. It was so successful that they are doing it again this year, with a series of Welcome Day events throughout the week before classes begin.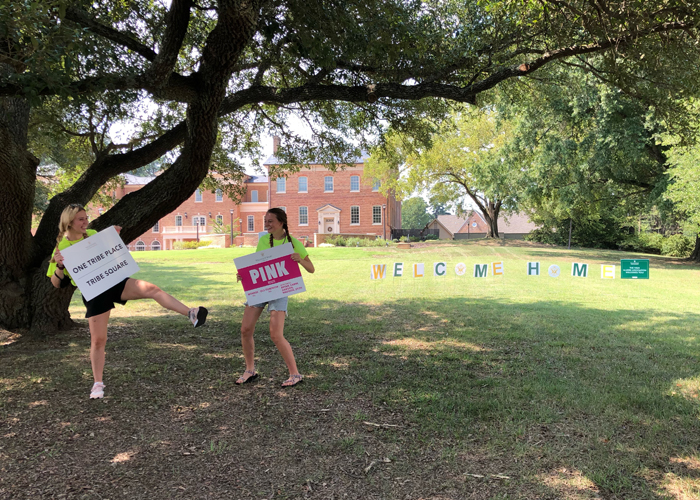 "These students may have never set foot on campus," Garrett said. "They will get those same opportunities to get introduced to campus – and meet this community in person."
Having truly arrived 
It's not lost on Garrett and her team that the students moving into campus this fall come with a range of experiences and social comfort levels in the wake of an historic pandemic. In prior years, the pomp and circumstance was frontloaded with large, exuberant events during move-in, she said. This year, they are giving students space to join at their own pace, in ways that feel comfortable.
Throughout move-in, there will be lawn games in the Sunken Garden, student-led campus tours and a Williamsburg-themed scavenger hunt, but there will also be a lot of unstructured time, Garrett said. To help foster connections, her team has planned essentially a full two weeks of programming to help "people find their people," she said, regardless of their class year. 
"All of these events are open to anyone who's in the Class of 2024, or any upper-level student who has not yet found their place at William & Mary," Garrett said. "We need to give our students the time and space to do that. We're going to try to meet them where they are and support however we can to help them engage in this awesome community."