W&M post player reveling in final basketball season
For the first time in his college basketball career, Andy Van Vliet '20 is playing a key role on a team in title contention making a stretch run to post-season play.
The senior center/forward couldn't be more thrilled with how things have gone for him at William & Mary after a long road to get here, he said. Transferring to W&M "changed everything."
Van Vliet, 7-feet tall, is averaging 13.5 points and 8.5 rebounds per game as the second-leading scorer and rebounder behind fellow post player Nathan Knight for W&M (18-10, 10-5 Colonial Athletic Association) heading into tonight's game at Towson. The Tribe is playing the final games of the regular season in preparation for the CAA tournament March 7-10 in Washington, D.C.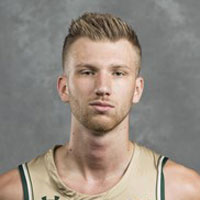 Van Vliet is a native of Antwerp, Belgium, and speaks the Dutch spoken in the northern part of the country where he grew up, as well as the French spoken in the southern part plus German and English. He played for the Antwerp Giants club team, practicing at the age of 16 with a pro team made up of former college players.
With highlight clips of him circulating on the internet, college basketball scouts came calling, and he visited a handful of U.S. campuses before settling on Wisconsin.
The coach who had recruited him retired halfway through his freshman season, and Van Vliet saw limited playing time for three years before deciding to transfer. W&M coaches were among those who recruited him, and Van Vliet said he clicked with them immediately.
"I really liked William & Mary as a school, the coaches," Van Vliet said. "And on my visit, the players just seemed like such a tight-knit family. It was like I was home."
After taking one more campus visit, Van Vliet let the coaches know he would play for W&M. He sat out last season per NCAA eligibility rules, and was geared up for his senior season under a new coach, Dane Fischer.
 Van Vliet joined with the 6-10 Knight to make a formidable duo in the paint and give W&M a rare tandem with that type of size. It's made for a breakout season for Van Vliet, which he said has meant a lot to him.
"I feel like sometimes people think I'm exaggerating, but it has really changed my life," Van Vliet said. "Being at Wisconsin, at the end literally I was so low and thinking is basketball a thing for me? Am I going to be able to have a career? I was not happy at all. And then coming here changed everything for me.
"I'm so happy here, so happy to finally be able to do my thing, so happy to be with a coaching staff that trusts me, both last year and this year. We all get along great. It's like a family atmosphere, and I really feel at home here. I will never have a bad thing to say about William & Mary at all; it's only positive things. They've changed my life for the better, and I'm forever grateful to them."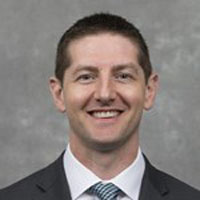 Fischer acknowledged the qualities Van Vliet brought to the squad, which included basketball experience at high levels and a great deal of maturity at age 24.
"Initially with Andy, it was just his skill set — the skill set he possessed with some of his size and the versatility in his game," Fischer said. "So it was very apparent early on that we were going to play through Nate and Andy quite a bit, and that really the only question we had going in was how do we defend with both of them out there if we play a team that's got a smaller lineup that plays four guards on the perimeter?
"And he's done a terrific job of accepting that challenge and guarding smaller guys on the perimeter. Like I said, from an offensive standpoint, it didn't take long to say he can score around the basket, he can score in the mid-range, he can shoot the ball at the 3, he's a good passer. So we were really excited about the opportunity to work with him for his senior year."
Knight called the addition of a player with Van Vliet's height alongside him a "blessing."
"Andy is a tremendous talent, obviously seven feet tall, a monster on both sides of the floor," Knight said. "The biggest thing for me is Andy is a great friend. And he's been a large piece to our success. It makes life a little easier when you have Andy out there.
"His ability to stretch the floor, his versatility and then his impact as a leader and as an influencer on this team has been huge for us. When we're rolling, when we're at our best — Andy's rolling, he's at his best."
Heading towards tournament time, Van Vliet is excited about the team's prospects.
"I think we're mostly focused on us and what we can do," he said. "And I think we've shown so far that we can be a very good team in this league, and we definitely can compete for that conference tournament championship. And it's a dream of all of ours to go to the NCAA Tournament for the first time, but we've also got to be realistic and take it one week at a time."
Van Vliet will graduate with a degree in kinesiology in May. He says that's important because "there's life after basketball," and his immediate post-graduation plans are to pursue playing professional basketball in the U.S. or Europe.
"I'm just very grateful to the coaches and what they have meant for me, not only on the court but off the court as well," Van Vliet said. "They're all so good with building relationships with us and trust and all that. I'm just very happy that I can call them coaches, but also mentors."