Muscarelle curator finds new evidence that Michelangelo carved well-known Italian stone
Since the publication of his paper "A new possible attribution to Michelangelo: The mysterious face" in September, Adriano Marinazzo has garnered  international press attention including a front-page article in "The Wall Street Journal" and interviews with "The Telegraph," "Le Figaro" and "Die Presse."--Ed.
Adriano Marinazzo, curator of digital initiatives at the Muscarelle Museum of Art at William & Mary, is an art and architectural historian, architect and artist, specializing in the virtual reconstruction of historical monuments.
Marinazzo's research encompasses art, technology and the development and application of digital tools in museum studies and liberal arts. He used all of that in the forming of his recently-released hypothesis that Michelangelo may have carved the figure on a well-known outdoor stone façade in Italy, noting its similarity to a drawing attributed to the artist.
Among Marinazzo's earlier research was a noteworthy new hypothesis on a Michelangelo sketch, identified by Marinazzo in 2014 as the architectural outline of the Sistine Chapel ceiling as possibly the first drawing made by the great artist while preparing for the decoration of the ceiling.
W&M News asked Marinazzo to discuss his latest work, which is outlined in the paper "A new possible attribution to Michelangelo: The mysterious face" published in the Italian journal "Art e Dossier" in September.
What is the premise of your paper?
"Who would ever say that it was by my hand?" Michelangelo wrote in Italian on a note now at the Louvre Museum. On the same paper, the artist drew three different subjects: A group representing Mary, Child Christ and Saint Anne; a study of a male nude; and lastly a mysterious sketch depicting a man in profile, which scholars have largely ignored.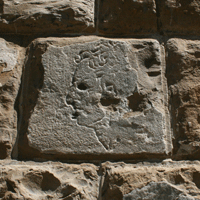 My study points out how this enigmatic profile seems to be a drawn version of the head in profile carved on the façade of Palazzo Vecchio in Florence, Italy. The origin of this relief is obscure. An old popular legend attributes it to Michelangelo.
Whoever carved it did so with the city authorities' permission. Guards were always present at the façade of the building where the government gathered and operated.
The style of the relief is similar to head profiles Michelangelo drew in the early 16th century. Therefore, its execution coincides with the placement in 1504 of Michelangelo's statue of David and it looks toward that statue.
A committee of artists that included Leonardo da Vinci, Sandro Botticelli and Michelangelo's dear friend Francesco Granacci decided to place the statue in front of Palazzo Vecchio. So the silhouette possibly portrays Granacci, whom the artist was grateful to for having been instrumental in the early stages of his career.
I said to myself that I must have courage and publish a serious study on this legend. When dealing with sacred themes like Michelangelo, one must be cautious, but sometimes it is worth daring.
Michelangelo, along with da Vinci, is among the most studied artists in history. For this reason, it is almost impossible to find something new about him and his production. My study presents a possible discovery of a new work by the great artist.
Eminent Michelangelo scholars are intrigued about my hypothesis, which should not be surprising as, after all, even Michelangelo wrote no one would know its origin.
Can you tell us about your research method for this project?
As a historian, I am an expert on Renaissance art and architecture. But more broadly, as a scholar, I am interested in the interactions and applications between arts and digital sciences. I use different software that help me compare or recreates two and three-dimensional images.
I work with archetypes and models. This modus operandi allows me to see clues that are difficult to recognize. For this particular study, I have compared and overlapped — with accuracy only possible thanks to the computer-generated models — the digital outline of the Louvre's profile with the one of Palazzo Vecchio. This gave me additional evidence for my hypothesis.  
When I was an assistant professor at the University of Florence, I taught my students these applications. I believe that students, especially those in the liberal arts, who learn these tools will be more competitive in the job market after graduation. My mission is to introduce this innovative approach to our students at William & Mary.
How does this latest piece follow on your earlier work?
This study is part of a larger research on Michelangelo that will culminate in a book and an exhibition.
After several years of research, I have become an expert on Michelangelo, have published many articles, and curated and co-curated several exhibitions, including exhibitions in 2010 and 2013 at the Muscarelle.
Among my research is a noteworthy new hypothesis on a Michelangelo sketch, identified as the architectural outline of the Sistine Ceiling. In 2014, I was invited to show this groundbreaking discovery at the most important architectural event/exhibition in the world, the Biennale of Architecture of Venice.
Following this research, I later developed a multimedia project that recreates in 3D Michelangelo's painted architecture of the Sistine Ceiling.
What does this possibly mean for the body of knowledge on Michelangelo's work?
My article is the first scholarly publication on this topic. My goal is to start a fruitful discussion between scholars about a subject ignored by academia. I also wanted to share my hypothesis with national and international media to discuss the necessity to provide the proper protection to the carved profile.
Unfortunately, it is falling apart. The Palazzo Vecchio's façade, and thus the profile, is made of pietraforte stone. This material is subject to decay with exposure to the elements.
I hope that my study can help to save and preserve an important piece of art and history.