W&M Photomania students see through new lens amid COVID-19
A fairly new course at William & Mary, Photomania still has plenty of room to change and grow.
That's good because this fall's pandemic conditions have brought new challenges as well as discoveries for the students participating in the COLL 100 photography class, which Lecturer of Art Eliot Dudik teaches.
"Certainly, COVID-19 has forced the course to evolve and stretch in some new ways, too," Dudik said. "The course title is in reference to the mania that spread from Paris and London to New York and across the globe when the invention of photography was announced and the first daguerreotypes were put on display. The course aims to consider what led to the invention of photography and how it changed the world.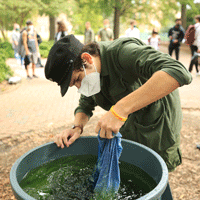 "We also look at major shifts in technology, practice, theoretical and cultural thinking, and the impacts they've had on the world since the invention of photography. On a basic level, it introduces first-year students at William & Mary to new concepts that impact the way they think about the power of photography every time they pull their cell phones out."
The class this semester is working with the theme of time, especially as it relates to one's perspective or understanding of the world, according to Dudik. The material is a combination of lectures about the history of photography and hands-on projects that tie into those lectures, with something new this semester.
Dudik is collaborating with Professor of Art History Charles Palermo and the Muscarelle Museum of Art to work with the Photomania students on constructing their own virtual museum exhibition. The class is split into four groups, and each group is creating a different part, or virtual room, of the show that explores a different aspect of photographic time.
The semester so far has been split between virtual work on this show and hands-on projects like the recent cyanotype murals that students made in one day using an outdoor photographic process.
Typically, the class makes one massive mural that all 16 students work on. This year they made four smaller murals with four students each working together to help keep everyone physically distanced.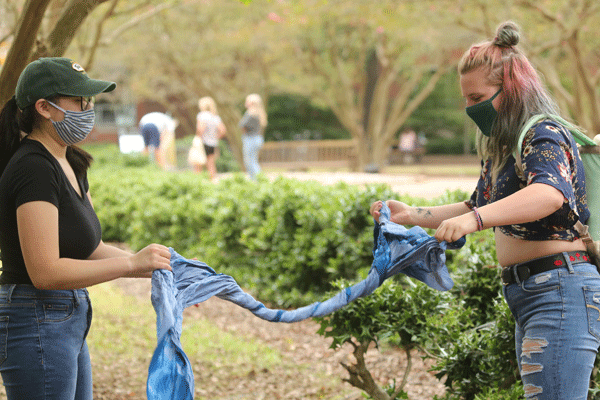 Each group worked through a different theme for their mural.
"This project is always one of the students' favorites as it gets them outside, allows them to collaborate, develop ideas and problem solve with their classmates," Dudik said. "Ultimately, they select or make objects whose shadows will communicate that idea when laid out as a particular design."
Marissa Ho '23 said the hands-on projects have been her favorite part of the class.
"During days when we aren't in person, we learn about the history of photography or old photographic techniques, and during our in-person sessions, we're able to actually apply these old techniques or modernized versions of those old techniques with our projects, which I think is really different and unique," Ho said.
"With other subjects, I can learn about the history of something and be done with it. But with this class, I've been able to actually see the historic processes we learn about in action and actually be able to do it by myself."
The project with Palermo and the Muscarelle Museum has been "a really fantastic way to discover new artists and get a closer look at what the behind-the-scenes of museum exhibits are like," according to Ho.
"Photomania has also been a really nice break from my other classes, which are all very rigorous STEM classes that have become even more rigorous with the accelerated semester," Ho said. "Photomania has definitely also become a creative outlet as well as a fun class, which is something I wasn't expecting, but am definitely enjoying."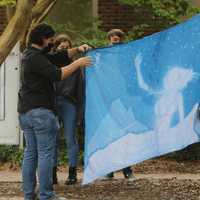 Joshua Miner '24 described Photomania as taking students outside the realm of the strictly digital and looking at photography in its many forms and facets.
"This has included hands-on experience in the special collections library, curating exhibits for the Muscarelle Museum and a plethora of traditional print photographs," Miner said. "Especially given the times, this chance to spend hours creating something meaningful with your friends makes Photomania distinctly unique."
He described the cyanotype murals, now displayed in Andrews Hall, as a great example.
"They allowed each group of students to come together to create a single 5-by-6-foot photo made not with fancy equipment, but of sweatshirts, blankets and paper cutouts," Miner said. "This theme of creative problem solving is standard amongst our projects, as the class emphasizes the significance of storytelling and artistic technique over equipment and technical expertise. In this way, the class seeks to build the framework for its students to go on to create meaningful art, both inside and outside of a photo."
Dudik said that during the pandemic, students, faculty, staff and administrators have had no choice but to be creative and flexible, which has been largely positive in his experience.
"Being flexible in the art-making process, like most things in life, is vital to revealing potential new paths one might not have imagined otherwise," Dudik said. "Our trials and failures are what lead us to discovery and success. My classes have shifted to almost all experimental photographic work, outside and using the sun to create an image.
"We're creating our own photographic, and sometimes plant-based, emulsions, building our own cameras and lenses, and creating handmade prints in collaboration with nature. These methods require patience, flexibility, a curious mind and a willingness to piece together and build upon mistakes."
This time last year, everybody took what they had — labs, teaching methods, learning objectives — for granted, he added.
"This year, we are finding new ways to teach, learn, communicate and be present, creative and compassionate citizens," Dudik said. "Although I can't wait to get students back into the darkroom, I hope much of the ingenuity that has taken place over the past many months continues forward well beyond the pandemic."