Student, staff member to be honored for community service
William & Mary will fête two members of its community during the university's 2019 Opening Convocation ceremony for their service work.
Sonia Kinkhabwala '21 and Assistant Director of Student Financial Aid Ginia Anderson will receive the 2019 President's Awards for Service to the Community during the Aug. 28 ceremony in the Wren Yard.
Presented by the President's Office and the Office of Community Engagement, the awards are given annually to one student and one faculty or staff member "who have demonstrated a sustained commitment to service and made a significant and measurable impact on the community," according to the W&M website. Each honoree receives a $500 prize to be donated to the community organization of their choosing.
"Both Sonia and Ginia exemplify a care for the well-being of other people: Sonia has shown commitment to supporting the health of older adults, while Ginia responds in many ways to her concern that all may be fed," said Melody Porter, director of the Office of Community Engagement. "In addition, both of our award recipients show what it looks like when you see people as people, take time to know them and what they need, and benefit from relationship with them as well. We are honored to be in community with Ginia and Sonia, and to celebrate the ways they have contributed to an ethic of human connection, justice and care."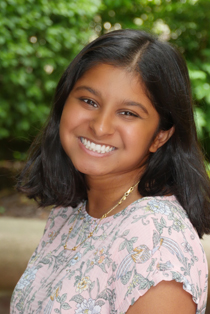 Kinkhabwala's service activities have centered on investing in relationships, she said in her application. At William & Mary, her service work began with participation in the Aim 4 Community Leadership Program. She volunteered with a local hospice agency and, in her sophomore year, partnered with another student to create the Brunch Bunch program. The program pairs students with residents in local retirement communities to build meaningful relationships.
Kinkhabwala also served as a tutor for non-native English speakers through the Community Partnership for Adult Learners, served as the undersecretary of community engagement and service for the Student Assembly, participated in numerous W&M service day programs, took a course on community engagement on campus and served as a fellow for a D.C. Summer Institute program centered on community engagement.
In addition, she co-organized the university's first service symposium, which gave 20 service groups on campus a chance to recruit new members and collaborate.
"I'm incredibly honored and grateful to be receiving this recognition. More than anything, it is reflective of the compassion and support that those in my life — at William & Mary, Williamsburg and at home — have shown me," said Sonia.
"My family, friends and mentors have shown me the difference that an empowering community makes and have thus inspired me to create it for others. Everyone — young, old, and in between — deserves meaningful, sustaining relationships and people who care deeply about their well-being and growth. This is what community means to me. I hope this award will inspire others to cultivate it for themselves and for others."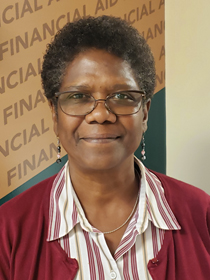 Anderson, who has worked at William & Mary since 2007, focuses her service work on providing nutritional meals to people in need, she said in her application.
She is highly involved in her church, New Zion Baptist, and participates in its food ministry. That ministry offers breakfast every Sunday to those attending and some who are in need. The church also hosts an annual Thanksgiving Harvest, William & Mary Day and Friends Family Day for the community.
In addition, Anderson has served as a bell ringer for the Salvation Army and a Campus Kitchen volunteer. She has also served with the Women's Network and has been an executive member since 2012.
Anderson has found inspiration to serve from multiple people — including Mother Teresa, Muhammad Ali and the late Carroll F. S. Hardy, who served as an associate vice president for student affairs at W&M — along with the Bible, which says "To whom much is given, much will be required."
"If you have heard that line of wisdom, 'and from the one to whom much has been entrusted, even more will be demanded,' you know it means we are held responsible for what we have," she said. "If we have been blessed with talents, wealth, knowledge, time and the like, it is expected that we benefit others."
Growing up, Anderson enjoyed meals as a time of gathering for her large, military family and friends, she said. As a result, cooking became one of her passions. That passion paired with her desire to serve led Anderson to look for ways to feed those in need and seek ways to reduce food waste.
"Food allows us to interact with and get to know others. It also allows us check on the well-being of those we happen to be sharing a meal with," she said. "I am usually here in Williamsburg at least one holiday and of course, I cook. Any leftovers I package and take to students I know are still here in the area. I also provide a dish to those staff and students who are working in the area delis as well.
"If we could get local restaurants to send leftover food to area shelters and programs servicing the needy, it would be fantastic. This to me is true community engagement."