Beth Comstock '82 to speak at Opening Convocation
Beth Comstock '82, former vice chair of General Electric, will speak at William & Mary's 2019 Opening Convocation ceremony.
The annual tradition, which takes place the first day of classes, serves to mark the beginning of the academic year and to welcome to university's newest students to campus. The event, scheduled for 5:15 p.m. on Aug. 28 in the Wren Yard, is free and open to the public.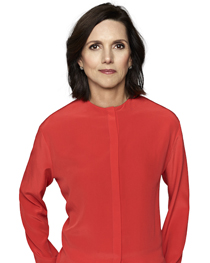 In addition to Comstock, W&M President Katherine A. Rowe will speak at the event along with Provost Peggy Agouris, who will be participating in her first Convocation since starting at W&M in July.
"I am delighted that Beth Comstock will join us to open the academic year at William & Mary," Rowe said. "An accomplished executive and an expert on leading organizational change, she has thought deeply about the connections between courage, creativity and openness to collaboration. Her insights will be especially timely, as William & Mary heads into a year of strategic planning. So we very much look forward to hearing from Ms. Comstock at Opening Convocation."
Comstock graduated from William & Mary with a degree in biology before holding a number of marketing and communications jobs at General Electric, NBC, CBS and Turner Broadcasting/CNN.
She spent almost 30 years at GE, where she became the company's first chief marketing officer and, later, vice chair of innovation. She was also GE's first female vice chair. She was responsible for all of the company's sales, marketing and communications and started GE's digital and clean-energy efforts. She oversaw GE Lighting and spearheaded the creation of GE Ventures & Licensing among other initiatives.
At NBC Universal, she worked as the president of integrated media, overseeing the company's digital efforts, including the development of streaming service Hulu.
She currently serves as a director at Nike, a visiting scholar at Columbia University's Center for Science and Society, a trustee of the National Geographic Society and a member of the advisory board for MIT Media Lab.
Fortune and Forbes have both listed Comstock among the world's most powerful women. She released her first book, "Imagine it Forward: Courage, Creativity, and the Power of Change," in 2018.
Comstock has remained closely connected to W&M throughout the years. In 2016, she helped the university celebrate its
For the Bold
campaign
kickoff
in New York City. Last year, she donated a copy of her book to every attendee of W&M's first
Women's Weekend
and provided a video message to share with them.