'Face the Nation' now a W&M Commencement tradition
A number of William & Mary traditions take place over Commencement weekend — the  candlelight service, the graduates' early morning walk across campus and pictures with family on the Crim Dell Bridge to name a few. But over the past several years, a new tradition has developed, and this one brings the national news spotlight to the Alma Mater of the Nation.
For the seventh year in a row, Face the Nation, the CBS News national broadcast show, came to campus to interview former U.S. Secretary of Defense and current W&M Chancellor Robert M. Gates '65 L.H.D. '98. Moderator Margaret Brennan came to Williamsburg Friday to conduct the interview, which will air nationwide Sunday morning (locally at 10:30 a.m. on WTKR-TV 3).
"The annual Face the Nation interview with Secretary Gates is always a terrific opportunity for us to take a step back from the chaos and partisanship in Washington and get some context on the news," said Mary Hager, executive producer of the show. "His experience gives him a unique perspective on what's going on today and why it matters for tomorrow."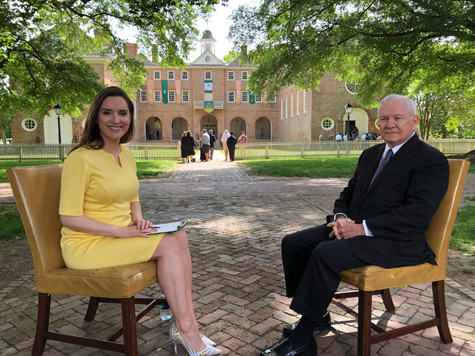 Gates was invested as the university's 24th chancellor in 2012 and re-invested for a second term this past February. Although the position is primarily a ceremonial role, Gates has been very active on campus as chancellor. He frequently takes part in W&M's traditions, such as Homecoming, Charter Day and Commencement. The annual interview began in 2013 with longtime anchor, journalist and host Bob Schieffer. Schieffer came to Williamsburg and William & Mary for three interviews before retiring as moderator in 2015. John Dickerson kept the tradition alive for two years during his time as moderator of Face the Nation and before moving over to serve as a co-anchor of CBS This Morning. Brennan made her first Commencement trip to William & Mary in 2018 and returned again this year.
Hager said Schieffer and Gates have a relationship that dates back to the 1970s. Schieffer is one of the only network correspondents to cover all four major beats in Washington (The White House, State Department, the Pentagon and Capitol Hill). Gates majored in history at William & Mary before entering a career in public service, joining the CIA, where he served for 27 years and under six presidents.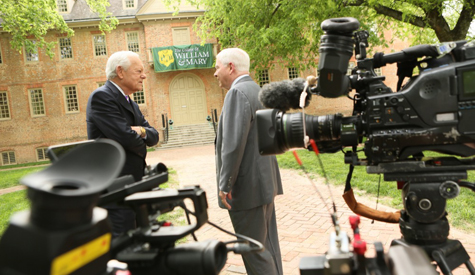 He served as deputy director and later director of the agency. He became the nation's defense secretary in 2006 and remained in that role until 2011, becoming the only person in American history to ever hold that position under two presidents of different political parties. In total, Gates served eight presidents of both political parties.
"Their professional paths have crossed back and forth for decades," Hager said of Gates and Schieffer. "The Face the Nation/William & Mary interview tradition began after Secretary Gates returned to the private sector. We (CBS) had been lobbying the secretary's former head of public affairs at the Pentagon Geoff Morrell for a post-administration interview, and he proposed Bob (Schieffer) for the William & Mary interview pegged to the secretary's visit to graduation that year.  We jumped at the opportunity, a comprehensive Sunday show interview with a straight-shooting, tell-it-like-it-is newsmaker with ties to both sides of the political establishment. Plus, it provided us an opportunity to get out of Washington — and the studio — to talk with him."
The rest has been broadcast history, and William & Mary has become the national show's mid-May home — despite the fact that many of its key players have strong ties to another university located in Charlottesville. Both Dickerson and Brennan — and Hager herself — are alumni of the University of Virginia. The interviews typically take place outside with the Wren Building as a backdrop. In recent years, green and gold banners have been added to the building for Commencement festivities, providing W&M additional exposure during the broadcast.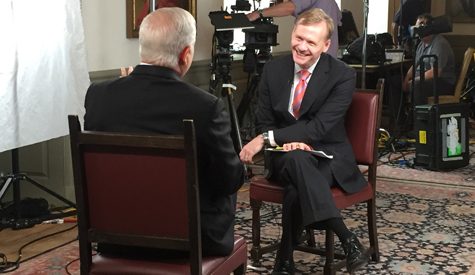 "There is no more enjoyable place to be than on a college campus, more so on graduation weekend, when all the years of studying and hard work are paying off and graduates are looking forward to the future," Hager said. "As a Virginian who still grimaces when William & Mary grads point out that Jefferson had to go somewhere to college before he could learn how to build UVA, the rivalry is there — but it's a gorgeous campus that celebrates academic excellence and history. We all have the utmost respect for William & Mary and truly enjoy our annual visit to Williamsburg. We hope the tradition continues for a long, long time."
Charles Crimmins J.D. '10, chief of staff to Chancellor Gates, is an alumnus of both UVA and W&M. While the rivalry between the two institutions is real, so are the connections, he said.
"Thomas Jefferson believed that the keystone of our democracy is an educated citizenry," Crimmins said. "I like to think he is watching and would be pleased to see the preeminent statesman of our time being interviewed at their alma mater, in front of the building where they both once studied, by members of the press who graduated from the university he founded. This has become a unique and a special William & Mary tradition."