W&M receives national award for commitment to diversity
William & Mary has been recognized for its diversity and inclusion efforts by the oldest and largest diversity-focused publication in higher education.
INSIGHT Into Diversity magazine named William & Mary among the recipients of its 2018 Higher Education Excellence in Diversity (HEED) Award on Friday.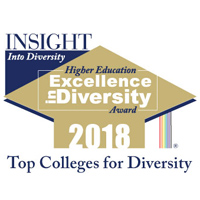 The national award recognizes U.S. colleges and universities that demonstrate an outstanding commitment to diversity and inclusion, according to a press release. William & Mary will be featured with 95 other recipients in the November 2018 issue of the magazine.
"William & Mary has accomplished much in advancing diversity and inclusion and should be rightfully proud," W&M President Katherine A. Rowe said. "This recognition affirms the hard work the university has undertaken in recent years. At the same time, it energizes us to do more to ensure that William & Mary is welcoming, equitable and innovative in all of the right ways. As we celebrate this honor, let's also excitedly greet the coming phases of our diversity and inclusion efforts."
This was the first year that the university has applied for the award, according to W&M Chief Diversity Officer Chon Glover. The inaugural year for the award was 2012, and since that time, W&M has made significant strides to advance diversity and inclusion across the campus, she said.
"I am excited and proud that the collective work of our William & Mary community is being recognized," said Glover. "This work is not the responsibility of one person or one office but must be interwoven into the tapestry of all that we do and ensure that William & Mary is a place where all members of our community feel welcomed, respected and valued."
The HEED Award process includes a comprehensive application with questions relating to the recruitment and retention of students and employees, continued leadership support for diversity and other aspects of campus diversity and inclusion, according to Lenore Pearlstein, publisher of INSIGHT Into Diversity magazine.
"We take a detailed approach to reviewing each application in deciding who will be named a HEED Award recipient," Pearlstein said in a press release. "Our standards are high, and we look for institutions where diversity and inclusion are woven into the work being accomplished every day across their campus."
W&M's application for the award highlighted efforts from the Task Force on Race and Race Relations, additional university-wide working groups, the Office of Diversity & Inclusion (D&I), the Center for Student Diversity, the Office of Undergraduate Admission, the Board of Visitors and others around the university.
Some of those initiatives include: efforts to recruit and retain diverse faculty members and students, new symbolic signs of welcome on campus including plaques placed on the Wren Building last semester and plans for a memorial to the enslaved, an expanded staff in the Office of Diversity & Inclusion, increased LGBTQIA+ and veteran outreach, religious diversity efforts and the creation of diversity action plans for all academic and administrative units in the university.
Glover said she hopes the award symbolically shows the university's on-going commitment to the diversity work that is essential to it being an inclusive university focused on academic excellence. She also hopes it will continue to challenge the campus community to build on what has been accomplished.
"It is an honor to receive this award and it my hope that it will serve as affirmation of the collective work that's been done, and also serve as the impetus to 'keep up the momentum' moving forward," said Glover. "We have seen much success, but there is much more work to be done."