W&M Provost to step down at end of academic year
After a decade of leadership as the university's chief academic officer, Michael R. Halleran to return to the classroom
William & Mary Provost Michael R. Halleran always hoped to have the opportunity to continue his career as a teacher and scholar, working with students and furthering his scholarship on Greek tragedy. The longtime provost, who serves as the university's chief academic officer, has decided this next act in a distinguished career in higher education will come after the end of this academic year. Simply known on campus as "The Provost," Halleran has announced he will step down from that position at the end of the 2018-19 academic year to return to the classroom.
"William & Mary is a tremendous university. It has been a distinct honor and a real joy to serve as its chief academic officer for the past decade," said Halleran. "It is a very rare school in its blend of teaching and research, and in how we provide a high-touch academic experience for our exceptional students with our remarkable faculty and staff. When I look back at my time, I will remember a great 10 years.
"Like almost all academic leaders, I didn't start out my career to be a dean or provost. It happened and has been wonderful. I also love teaching and my scholarship, so I am pleased to end my career as I began it."
Halleran said he decided to make the announcement now because he wanted to give President Katherine A. Rowe plenty of time to conduct a national search for his successor. He added that he is also looking forward to working with Rowe this year to advance the university's mission. After a sabbatical year, Halleran will join the Department of Classical Studies in 2020 as a full-time faculty member.
"From his tireless advocacy for our faculty, students and the excellence of a William & Mary education to his ability to look beyond the curve and lay groundwork for so many innovative initiatives over the past decade, our provost has made an indelible mark on this university," Rowe said. "Michael Halleran has also been such an important resource for me during the transition. He has become a tremendous and valued partner in a short amount of time. William & Mary will miss his leadership and I will miss his wise counsel. I am thankful we still have Michael as provost for one more year and know he and I will make the most of it together."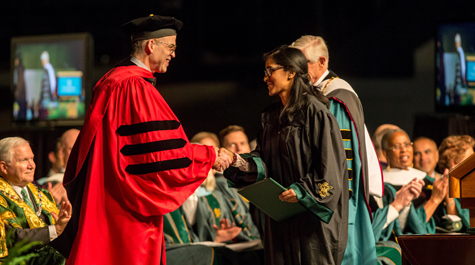 In addition to serving as the university's chief academic officer, the provost is responsible for all academic and research programs, academic budgets, institutional planning, space allocation and faculty development. The deans of Arts & Sciences, university libraries and the schools of law, education and marine science report to the provost. The vice provosts of academic affairs, international affairs and research also report to the provost, as do the offices of admission and financial aid, e-learning, information technology, the ombuds and the university registrar. The provost has responsibility for the Muscarelle Museum, the Reves Center for International Studies and the W&M Washington Center. In addition, the director of the Omohundro Institute for Early American History and Culture reports to the provost.
"Michael has been a compelling advocate for our faculty and for William & Mary's academic excellence," Rector John Littel said. "There have been many major accomplishments during his tenure, including the implementation of the College Curriculum, which enhanced critical thinking skills for our students, and the William & Mary Promise, which strengthened our operating model. We owe him a debt of gratitude for his unceasing efforts to advance the university at every opportunity."
Leading W&M's academic excellence
Over the past nine-plus years at William & Mary, Halleran played a key role in nearly every major initiative at the university. This includes co-chairing William & Mary's Strategic Planning Steering Committee; working closely with former President Taylor Reveley and the Board of Visitors to adopt and implement a completely new operating and financial model, the William & Mary Promise; helping shape academic priorities in the university's capital fundraising campaign; increasing W&M's international presence and partnerships; developing and implementing a plan to fully integrate non-tenure eligible faculty into the life of the university; expanding the diversity of the faculty; and spearheading W&M's efforts to incorporate digital technologies in the classroom.
"I always say that as provost I have only one constituent, the College of William & Mary," Halleran said. "And my job is to advance William & Mary's distinctive educational excellence. So it's simple — if we focus on these two things we're in business."
Chancellor Professor of English Suzanne Raitt, who has worked closely with the provost in a variety of faculty leadership roles, said that commitment to the broadest educational goals — whether at the undergraduate or the professional level — is a hallmark of Halleran's style.
"Provost Halleran embraced new opportunities, and strengthened the best in what we were already doing," said Raitt, chair of the English Department who has also served as president of the Faculty Assembly and the faculty representative to the Board of Visitors. "A sympathetic and discreet listener, he has been a tireless advocate for the faculty. His evident joy in his work inspired us all, and though we will miss him sorely as provost, we are delighted that he is returning to his first love — classical studies — and that he will continue to be part of our community."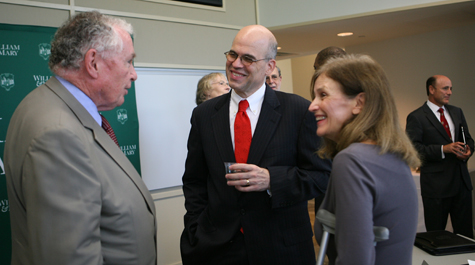 Shortly after arriving at William & Mary, Halleran launched a community-wide conversation based on the question, "What does it mean to be a leading liberal arts university in the 21st century?" The yearlong conversation included events, town halls and featured guests, culminating in a white paper, authored by Halleran, that served as a foundation for what would become a faculty-driven process to revamp a general education curriculum that had not been revised in nearly 20 years. In 2015, William & Mary launched the new College Curriculum, or COLL. Comprising about a quarter of undergraduate credits, COLL courses emphasize rigorous thought, research, effective writing and speaking, interdisciplinary connections and global understanding.
"My role was to set the process in motion, to urge us to think deliberately and expansively about our general education as we consider the skills our graduates need to be successful in the future," Halleran said. "It wasn't an easy process but the result was very innovative. The specific ideas, the makeup of the COLL, that was the hard work of the faculty and they should be proud of it."
The William & Mary Way
In 2013, the Board of Visitors adopted the Promise, an innovative guaranteed-tuition model designed to create better predictability for in-state undergraduates, reduce net costs for low- and middle-income families and generate new revenue for the university's key priorities. Among those priorities was retaining and recruiting top faculty, something the provost had been working on since his arrival. Even before the Promise, for example, Halleran was thinking of creative ways to support faculty. One of his early initiatives was to challenge all deans to look at their budgets and reallocate 5 percent to create a pool to address salaries on a merit basis.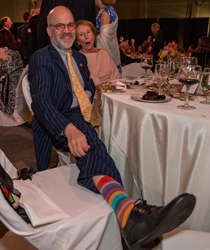 "No other public university looks like us," Halleran said. "Our financial model is that of a public university, and we understand our role as an institution for the citizens, but our educational model is more closely aligned with the very best private institutions. No other school does it this way, and it presents challenges, especially with the budget. These challenges force us to think differently, creatively and consider innovative ways to strengthen our core mission. That's the William & Mary way."
Among those initiatives was the Creative Adaptation Fund. In 2011, Halleran sent a memo to faculty announcing the fund, which set aside $200,000 annually and awarded grants to faculty "to engage and unleash the creative energy in the academic areas to develop creative adaptations." The goal, he said, was to spark ideas that would improve the quality of the educational programs or reduce costs or generate new revenues that could then be reinvested in academic priorities.
The result was a series of initiatives, including many that looked at new and innovative approaches to teaching and instruction. A number of pilot courses that started through the fund would lay the groundwork for a more comprehensive approach to e-learning at William & Mary. Three years ago, Halleran reorganized some administrative offices and created William & Mary's first associate provost position to oversee the launch of new technology-enhanced projects. In 2015, the Mason School of Business launched the university's first all-digital degree program in an online MBA. Other schools now have fully online and blended courses.
"William & Mary's digital landscape looks quite different than it did five or six years ago," Halleran said. "And we have been able to do this without changing the character of the institution or the quality of the instruction or experience."
Being global and bold
During the past decade, William & Mary has also become much more of an international institution. It consistently leads the nation's public universities in terms of students studying abroad, with more than 50 percent of undergraduates studying overseas during their years at William & Mary. Over the past decade, William & Mary has tripled the number of international students and scholars on campus. In 2010, William & Mary launched a joint degree with the University of St Andrews, one of only a few such programs in the world. The following year, W&M announced the creation of the Confucius Institute in cooperation with Beijing Normal University.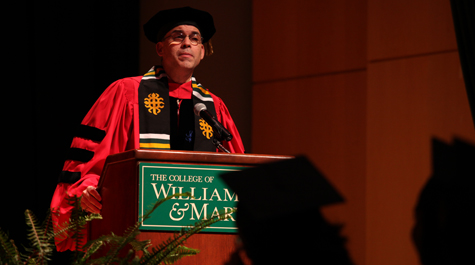 Halleran, working in conjunction with the deans, was also deeply involved in the planning of academic priorities related to the For the Bold fundraising campaign. Publicly launched in 2015, the campaign has raised more than $800 million toward its $1 billion goal by 2020. The top fundraising priority of the campaign is scholarships. Halleran has been a spokesperson of the campaign, which also strives to increase alumni engagement with the university.
"We will get there, I have no doubt," Halleran said of reaching the billion-dollar goal by 2020. "And I have said from the beginning, the goal is not a billion dollars. The goal is to increase our resources so we can advance our distinctive mission."
When he steps down June 30, 2019, after a decade, Halleran will join the late Gill Cell in having the longest provost tenure in the university's history. Prior to becoming William & Mary's fifth provost in 2009, Halleran enjoyed a long and extensive career in higher education. Previously, he served on the faculty at Connecticut College, the University of Washington and the University of Miami. At the University of Washington, he was also chair of the classics department (1991-97) and then Divisional Dean for the Arts and Humanities (1997-2005) and served as Dean of the College of Arts and Sciences at the University of Miami (2005-09).
Returning to the classroom
During his time at William & Mary, Halleran occasionally makes it back in the classroom to give a guest lecture. He's also served as a pre-major advisor for freshmen and sophomores. But he's always missed teaching and scholarship. Halleran said he believes being a professor is one of the most rewarding jobs on the planet.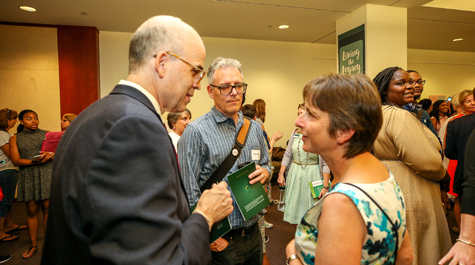 "I have a wonderful job and have worked with really great people. I deeply enjoyed my partnership with Taylor (former President Taylor Reveley) and I'm very much enjoying working with Katherine.
"I won't regret my decision but I will miss many parts of the job. At the end of the day, the faculty are the core of the university and the students are the reason we exist. I'm going to enjoy returning full-time to both of them"