Pursuit of education takes W&M senior around the world
Nope.
That was once QuynhNhu Phan's reaction when friends would encourage her to become a teacher. Shy and bullied, Phan didn't enjoy middle or high school, didn't understand why she had to learn about topics that seemed to have no relevance to her and didn't feel any motivation to succeed in academics.
But her experiences in the classroom since then have changed her perspective, and education has now become a driving force in Phan's life, taking her across the world from her homeland of Vietnam to the campus of William & Mary and finally to England, which she will soon call home. As the W&M senior prepares to graduate from the university this weekend, she does so with a passion for finding creative ways to reach students who feel more "nope" than "yes" in the classroom, like she once did.
Phan grew up in Ho Chi Minh City and was studying tourism management at a college there when she approached her mother, a former math teacher, about moving to the United States for a better education.
"I told my mom this was a great opportunity for me to go to the states and learn," Phan said. "It was very hard for her because we owned a house and a business there, and she felt scared to move to another country. But she did it just so I could study here in America, and I'm very thankful for that."
The family moved to Falls Church, Virginia, and a year later, after achieving in-state status, Phan attended Northern Virginia Community. She also attended English classes at a local church where she met a teacher who inspired Phan with her creative methods of teaching and personal dedication to students. After getting to know Phan, that teacher recommended W&M as the next step for her.
Although visiting colleges is not a common practice in Vietnam (Phan said that colleges there pick students, not the other way around), Phan and her cousin decided to drive to W&M one Sunday. Phan randomly selected a student and began asking him questions.
"He was so patient with me. He answered my questions for like an hour," she said. "He was very involved on campus, too. He studied abroad. He was in a fraternity. He played sports and had friends in orientation and told me everything about William & Mary, and I was like, I want to go here, too! And I'm very glad I did."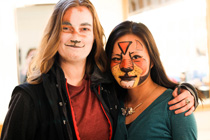 Phan entered the university as a sophomore and immediately sought ways to become involved. During her time at W&M, she joined the Gamma Phi sorority, volunteered with both the W&M School of Education's gifted education program and the local Head Start organization, and worked with the Cohen Career Center and the theatre's costume shop. She connected with Pamela Eddy, professor of education, through the women's mentoring network to get advice on internships, classes and jobs, and served as a peer advisor for transfer students. Phan, a psychology major, also worked with the Reves Center to study abroad at the University of Exeter in England (where she met her fiancé) and with the Office of Community Engagement to secure a student leadership scholarship.
But the summer after her first year at W&M was especially significant. It was then that she interned with the Department of Education before going back to Vietnam on a community engagement grant to teach children and adults in an area very unlike the one she grew up in.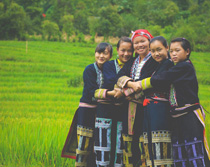 "I was so happy because that was actually my first experience as a teacher. That region is a place I hadn't been to yet, and they speak a different language and have their own costumes," she said. "It was remote — on top of a mountain — so it was very different and very meaningful, too."
Although Phan had begun thinking about working in education in some sort of administrative role, that summer inspired Phan to become a teacher.
"The kids constantly challenged me to be more creative and to solve problems," she said. "They wouldn't be obedient and sit up straight and listen to the lecture if you were not interesting. I had to constantly think of games, songs and activities to engage them in the lessons. That's when I felt like, this is so great … I feel like I can do this."
Phan gained additional experience the summer after her junior year, when she traveled to Miami to work as a teaching assistant in a program for kids with ADHD.
"I learned so much — how to apply psychology to the classroom, how you can help shape behaviors and what it's like to work with special education," she said.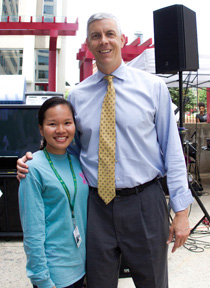 Phan has been accepted into a master's degree program at Exeter where she'll continue to pursue her dream of becoming a teacher. Although she is excited about what the future holds, she will miss the home she has found at W&M and all of those who have supported her during her time at the university.
"What I didn't realize I would learn at William & Mary is to kind of find myself, to know more about myself," she said.
Although she once disliked school, Phan now encourages W&M students to take advantage of every educational opportunity available to them.
"I think at William & Mary, everything is possible," she said.