Charter Day speaker Clemons lives to embrace challenges
About 35 years ago, two of the most important people in Michael Clemons' life, his mother and his college football coach, had to be convinced that William & Mary was the right university for him.
As a senior at Dunedin High School in Florida, Clemons had been accepted to Harvard. His mother, Anna Marie Bryant, pushed him to attend there. However, Harvard did not award athletic scholarships, and money was tight in the Clemons home.
In Williamsburg, coach
Jimmye Laycock
listened to impassioned arguments from two assistant coaches that Clemons would be an enormous asset to the Tribe offense. But Laycock needed to offer him a scholarship. It took some persuasion, but the coach ultimately relented.
It turned out to be one of the best decisions of Laycock's then-fledgling career as a head coach — and a win-win for everyone else.
"My mother is very happy I ended up at William & Mary," Clemons said with one of his frequent laughs.
Undoubtedly, Clemons '89 will touch on those major influences on Friday at 4 p.m. at Kaplan Arena when he becomes the first professional athlete to deliver the
Charter Day
address, putting him in the same rarefied company as a president, princes, prime ministers, secretaries of state, secretaries of defense, ambassadors, senators, governors and Pulitzer Prize winners.
At the same time, longtime coach, administrator and athletic fundraiser Millie West will receive an honorary degree. The annual event celebrates the university's royal charter, which was granted on Feb. 8, 1693, by King William III and Queen Mary II.
"What an amazing honor," Clemons said. "This distinguished institution of higher learning has helped me and so many others propel our lives to a level that wouldn't be possible without it ... I've been looking for opportunities to get back and to be involved. To be involved at this level is something that I would not, and have not, contemplated."
A unique man

Clemons — better known as "Pinball" — is a legend in Canada. He is a member of the Canadian Football League's Hall of Fame after retiring in 2000 with more combined yards than any player in CFL history, winning five Grey Cup championships with the Toronto Argonauts – one as the league's first black head coach to do so. He has been recognized as "the classiest man in Canadian sports" by Dolce magazine for the Pinball Clemons Foundation and a myriad of other charitable endeavors. He is a highly sought, dynamic inspirational and motivational speaker.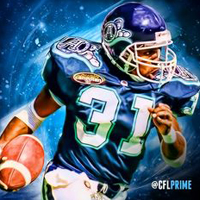 "This is not just a successful former football player coming back to speak," Laycock said, adding that he is certain that Clemons "will knock people off their feet" on Friday afternoon.

Clemons' foundation, steeped in a philosophy of education, has partnered with another charity to build more than 200 schools in nine countries, including Kenya, Haiti, Ecuador, Nicaragua and India. Other charities Clemons and his wife, Diane Lee Clemons, have been intimately involved in include Easter Seals, a foster-care school for 15 or 20 students whose focus is not on getting them jobs, but careers, and perhaps his favorite, Special Olympics, from whose participants "I learn how I should live."

Todd Stottlemyer, Rector of the William & Mary Board of Visitors and a football contemporary of Pinball's, described Clemons' life as "amazing."

"To see the success he's had in life as a coach and outside of football doesn't surprise me at all," said Stottlemyer. "He is a real strong leader. People like being around him. You want to be around some people because they have a lot of positive energy. They're enthusiastic. They believe they can do anything."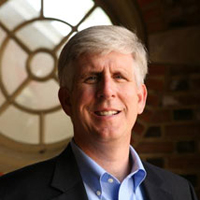 Now an ambassador for the Argonauts, Clemons said he is blessed to have the time to mesh his interests perfectly with William & Mary's long-held philosophy of community service.
How it began
Having read a newspaper story about Clemons, this wonderful student who also happened to be a first-team All-State football player in Florida, W&M assistant coach Don McCaulley had traveled to Dunedin High. He was more than a little intrigued.
Across from him stood Clemons, 5-feet-5 and maybe 160 pounds. They talked and then Clemons went to class.
"Sorry, he's too small to play for us," a disappointed McCaulley told Clemons' coach, who immediately replied, "Come watch some film."
McCaulley watched. Clemons was summoned from class again.
Awe-struck, McCaulley asked if he could visit Clemons' mother, which is "coach-speak" for "We'd like you to continue your career at William & Mary."
Next, he and assistant Kevin Rogers had to work on Laycock, who was only a couple of years into the job and had a budget that was, to put it mildly, limited. They showed the coach film; Laycock was impressed but asked a probing question: How big is this guy?
There was a hush in the room, followed by some mumbling that Laycock couldn't make out. When they finally answered the question, Laycock's first thought was "I'm leery of flying this guy up here, spending that money.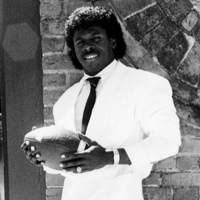 "He comes in here and I see this guy. He's about 5-5 and he's wearing these little red pointed shoes — I'll never forget those — and he has this big smile on his face and I'm thinking, 'Oh my God, what have we done?' All I could think about was the money I spent.
"But his personality, even as a high school senior, would win you over. You like the guy, and you tell yourself that this guy's got something to him besides football. He played for us as a freshman and became a great player."
An All-American in 1986 and a 1998 inductee into the W&M Athletic Hall of Fame, Clemons remains in the school's all-time single-season top 10 in receptions, all-purpose yards, scoring, punt-return yards and kickoff-return average. His 4,448 all-purpose yards — rushing, receiving and returns — is fourth all-time and his 172 receptions rank sixth.
After consulting with Washington Redskins coach Joe Gibbs, Laycock cooked up an offense in which Clemons played alone in the backfield, but frequently flared outside to catch passes then used his elusiveness to gobble up yardage. Almost no one else in college was implementing that attack.
"Playing in a single-back set in the 1980s, that was unheard of," Clemons said. "But Coach Laycock had the foresight … I caught the ball 70 times one year out of the backfield. I could not have been put in a better position to be successful.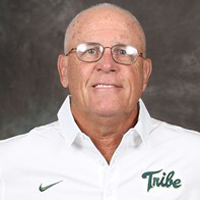 "Some of the decisions I made certainly were strategic. Others were just dumb luck."
In 1986, Clemons rushed for 1,116 yards, 10 touchdowns and caught 73 passes. The Tribe made their first national playoff appearance, after which Clemons figured he was done with football. An economics major, he was focused on a job waiting for him back in Florida.
Pro football thought differently
But the NFL's Kansas City Chiefs selected Clemons in the eighth round of the 1987 draft. In 1989 he headed to Toronto, where he was an instant sensation and acquired the nickname for which he's famous today.
An assistant Argonauts coach watched him bounce off one would-be tackler after another in practice and began calling him Pinball.
"People had tried so many times to give me nicknames and nothing ever stuck," Clemons said. "When he said that, I was like, 'That's kind of neat and maybe a little bit appropriate.' I thought it described me a little bit, but I didn't really think it would last. I guess I'm better known for that name than the name my mom gave me. It's been an endearing moniker."
When he'd make a great play, the public address announcer in Toronto would play The Who's "Pinball Wizard." The crowd would go crazy, a reaction that happened a lot. By the time he was through playing, Clemons had amassed 25,438 combined yards and held a slew of team records.
And there were those five Grey Cup titles won as player, coach and administrator, the last in 2012. Fans and media made a big deal about Clemons being a role model after the Grey Cup he won as coach, historic because of the color of his skin.
No offense, Clemons said, but he's always had a more interactive vision in mind.
"The idea of being a trailblazer is not nearly as compelling for me as being able to take part in others' success," he said. "If they can be encouraged by seeing and knowing of you that's nice, but I prefer to be a willing participant rather than someone who is looked to.
"I used to tell my guys when I coached, 'If what you did yesterday still sounds good to you today then you haven't done much today.'"
A hand up, not a handout
Deeply spiritual, Clemons described his part in all that has happened in his life as "a turtle on a fencepost."
"If you see a turtle on a fencepost, you can be sure of one thing: That turtle didn't get there by himself," he said. "He had to be put there."
His mother lent a hand up with all of the sacrifices she made as a single parent. Laycock lent a hand up by building an offense around him. The William & Mary community lent a hand up with an environment that helped a kid from Florida quickly feel at home.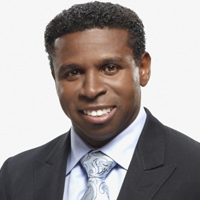 A Canadian woman he referred to only as Mama Crowe lent a hand up by renting him a room for $12 a day and showing him how to get around an international city like Toronto. They became so close that he lived with her for five years, including when he and Diane were first married.
To people in Canada, especially children, he's an icon. His message to them is that there's nothing iconic about him.
"I'm not very impressed with me," he said. "My first very simple message to kids is, 'You see me. I don't look like much. I didn't come from much. If I can, you can.'"