U.S. Soccer Coach Jill Ellis '88 to speak at Commencement
Jill Ellis '88, head coach of the World Cup-winning U.S. Women's National Soccer Team, will speak at William & Mary's 2016 Commencement ceremony, scheduled for 10 a.m. May 14 in William & Mary Hall.
Ellis, an alumna of the university, will receive an honorary degree at the ceremony as will John Bridgeland, CEO of Civic Enterprises and co-chair of the Service Year Alliance. W&M Chancellor and former U.S. Secretary of Defense Robert M. Gates '65 will take part in the event and offer welcoming remarks.
"Jill Ellis is a coach of compelling ability who leads on the world stage," said President Taylor Reveley. "She is also a dedicated alumna of her alma mater. William & Mary is enormously proud of her. It is also our great privilege to honor John Bridgeland, whose record of public service and civic engagement is simply remarkable.  Bridge is one of the leading proponents of a national year of service for young adults.  His ties to William & Mary run deep."
Jill Ellis '88
Ellis has led the U.S. Women's National Soccer Team as head coach since 2014. Last year, she guided the team to its first World Cup victory since 1999, and, in January, she was named the FIFA Women's World Coach of the Year. This summer, Ellis will coach the Women's National Team at the 2016 Olympic Games in Rio de Janeiro, Brazil.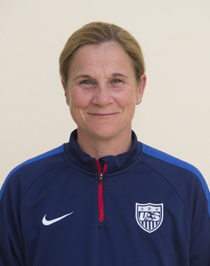 Ellis spent her childhood in England but moved to Virginia at the age of 15. At William & Mary, she studied English and played forward for the Tribe from 1984 to 1987. She helped the Tribe to the NCAA tournament all four seasons, including a trip to the Elite Eight in 1987. Ellis finished her career with 32 goals and 19 assists and earned Third Team All-America honors during her senior season; she ranks ninth in career points with 83.
While pursuing a master's degree in technical communications, Ellis assisted the North Carolina State women's soccer team, which won the ACC Championship. She worked for two years as a technical writer for Northern Telecom in North Carolina before accepting an assistant coaching position at the University of Maryland. After three years there, she joined the coaching staff at the University of Virginia before taking head-coach positions at the University of Illinois and UCLA, where she led the Bruins to eight NCAA Final Four appearances. In 2000, she was named National Coach of the Year.
After 12 years with UCLA, Ellis joined U.S. Soccer, working with the U.S. national youth teams. She twice served as head coach of the U.S. Under-20 Women's National Team, guiding the squad to the CONCACAF title and to the FIFA U-20 Women's World Cup in Germany in 2010. She was also an assistant coach for the Women's National Teams that won gold in the 2008 and 2012 Olympics and interim head coach for Women's National Team on two different occasions before stepping into the position permanently in May 2014.
Ellis has remained closely connected to William & Mary throughout the years. In 2002, she was inducted into the William & Mary Athletic Hall of Fame, and just last fall, she returned to the Williamsburg campus for Family Weekend. During that visit, she was named a Tribe Champion for Life. Ellis' life was the cover story in the fall 2015 W&M Alumni Magazine.
John Bridgeland
Bridgeland currently serves as the CEO of Civic Enterprises, a public policy firm in Washington, D.C., and co-chair of the Service Year Alliance, which seeks to make a year of full-time paid national service a cultural expectation, common opportunity and civic rite of passage for young Americans at some point between the ages of 18 and 28.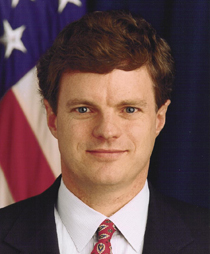 In 2010, President Barack Obama appointed Bridgeland to the White House Council for Community Solutions, where he authored the report "Opportunity Road: The Promise and Challenge of America's Forgotten Youth." Previously, Bridgeland served as the director of the White House Domestic Policy Council in the first term of President George W. Bush and later as assistant to the president of the U.S. and first director of the USA Freedom Corps, where he coordinated policy on international, national, community and faith-based service in the aftermath of 9/11. He co-chaired the White House Task Force for Disadvantaged Youth.
Bridgeland was also the first CEO and is now vice chairman of Malaria No More and senior advisor to the United Nations Special Envoy for Malaria. He helped lead the White House Summit on Malaria and several additional national events, including the National Summit on America's Silent Epidemic, the GradNation Summit and ServiceNation, a presidential forum with Senators John McCain and Barack Obama in 2008.
He currently serves on many non-profit boards, including City Year, Earth Conservation Corps, EARTH University in Costa Rica, the New Hampshire Institute of Politics, and the National Conference on Citizenship. He has written numerous articles, reports and books, including Heart of the Nation: Volunteering and America's Civic Spirit and Teaching America: The Case for Civic Education. And he has appeared on multiple news outlets, including PBS NewsHour, Fox News, BBC and National Public Radio. For his work in promoting the national service agenda, Bridgeland was named NonProfit Times Executive of the Year.
At William & Mary, Bridgeland has worked closely with the Office of Community Engagement and other offices and organizations on a variety of service-related initiatives and programs, such as the Social Entrepreneurship Conference (SECon), D.C. Summer Institutes, and the Active Citizens Conference. Last year, he helped organize the Virginia Governor's Higher Education Presidents' Summit on the Service Year, which took place at the university in October. William & Mary was one of five universities in 2013 to sign on as a lead institution for the Service Year Alliance. His daughter, Elizabeth Fallon Bridgeland '16, is a senior at the William & Mary.
Bridgeland holds an undergraduate degree in government from Harvard University and a law degree from the University of Virginia School of Law, where he serves on the Public Service Advisory Committee. He began his professional career by practicing law in the New York and Paris offices of Davis Polk & Wardwell.