Jill Ellis '88 named FIFA Women's World Coach of the Year
Former William & Mary women's soccer standout and United States Women's National team coach Jill Ellis '88 was honored as the FIFA Women's World Coach of the Year, announced at the 2015 Ballon D'Or Awards on Monday.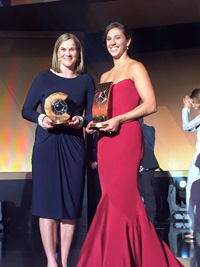 Ellis led the U.S. Women's National Team to its first FIFA World Cup title since 1999 last summer in Canada. The U.S. dominated its way through the tournament with a record of 6-0-1, and only surrendered three goals. She was named head coach of the U.S. National Team in May of 2014, after serving as the U.S. Women's Soccer development director since 2011. Prior to her stint with U.S. Soccer, Ellis led UCLA to eight NCAA Final Fours over a 12-year stretch. During her time with the Bruins, she posted a 229-45-14 record.
Originally from Portsmouth, England, Ellis played forward for the Tribe from 1984-87. She finished her career with 32 goals, 19 assists, and ranks ninth in career points with 83, while earning Third Team All-America honors during her senior season. She helped the Tribe to the NCAA tournament all four seasons, including a trip to the Elite Eight in 1987. She was inducted into the William & Mary Hall of Fame in 2002. Ellis earned her degree from William and Mary in English Literature and Composition.
 
This fall she made a return trip to Williamsburg to celebrate the 2015 World Cup Championship. Ellis was honored as the 2016 Tribe Champion For Life during her homecoming.
{{youtube:medium:left|HwF-c9jKelg, Alumna Spotlight}}