Acclaimed entrepreneur Mele '99 to give Opening Convocation address
Nicco Mele '99, entrepreneur, investor, consultant to Fortune 1000 companies and a former top executive at the Los Angeles Times, will address incoming William & Mary students during the annual Opening Convocation ceremony on Aug. 24. The event, which welcomes new students to campus and marks the beginning of the academic year, will be held in the Wren Yard at 5:15 p.m.
Mele, one of America's leading forecasters of business, politics and culture, is the director of the Shorenstein Center on Media, Politics and Public Policy at the Harvard Kennedy School. Additionally, he is a senior fellow at the University of Southern California's Annenberg Center on Communication Leadership and Policy (CCLP) and a contributor to the Harvard Business Review.
An active investor in technology startups, he has been involved with Plympton, United Mobile Solutions, Cignify and iDiet. He advises several startups, including Blueprint Robotics and Good Labs.
"We are in for a rare treat when Nicco returns to campus to help celebrate one of the special occasions in William & Mary's annual life," President Taylor Reveley said. "He is a modern Renaissance Man, who has accomplished an amazing amount in a very few years."
Mele earned a bachelor's degree in government at William & Mary. As a student, Mele was active in the Knights of Columbus, the Catholic Campus Ministry and the Catholic Student Association.  He also worked in the university's Technology Services department as a tech support all four years. As testimony to his varied interests, Mele received a Wilson Cross-Disciplinary Scholarship from the Roy R. Charles Center for Academic Excellence to study glass-blowing.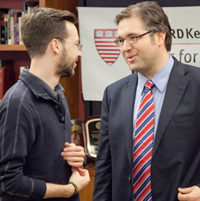 Since graduation, he has participated in several campus events, including the 2014 Weingartner Digital Citizenship Forum, held at the Raymond A. Mason School of Business.
Prior to serving as the Wallis Annenberg Chair in Journalism at the University of Southern California and as founding executive director of the Common Sense News Service, Mele was the senior vice president and deputy publisher of the Los Angeles Times. There he focused on product, content, revenue and audience development for all of the California News Group's brands, including growing existing digital products and services, identifying possible acquisitions, developing new business opportunities and launching new products.
From 2009 to 2014, Mele served on the faculty of the Harvard Kennedy School, teaching graduate-level classes on the internet and politics. In the spring of 2009, Mele was the Visiting Edward R. Murrow Lecturer at the Shorenstein Center on Media, Politics and Public Policy, and in the fall of 2008 he was a fellow at the Institute of Politics at Harvard. Prior to joining the Harvard Kennedy School, Mele taught at the Johns Hopkins Graduate School of Communications.
Born to parents in the Foreign Service, Mele spent his early years in Asia and Africa before graduating from William & Mary. As webmaster for Vermont Gov. Howard Dean's 2004 presidential bid, Mele helped popularize the use of technology and social media in political fundraising. Subsequently, he co-founded Echo & Co., a digital consulting firm with offices in Boston and Washington, D.C.
Once named one of America's "Best and Brightest" by Esquire magazine, Mele serves on a number of private and non-profit boards, including the Nieman Foundation for Journalism at Harvard and Turbovote. He co-founded the Massachusetts Poetry Festival and in 2014 co-produced a documentary about poet W.S. Merwin, titled "Even Though the Whole World is Burning." His first book, The End of Big: How the Internet Makes David the New Goliath, was published in 2013.