Side by side: Community members join new students for SHOW Day
Tomorrow, Tyler Skelton '19 will start his sophomore year at William & Mary, delving into the intricacies of geology and biology.
Tomorrow, Benny Zhang '16 will continue his work on the Williamsburg City Council, addressing the greatest issues facing the city.
But today, the two worked side by side at the Habitat for Humanity ReStore, moving furniture, assembling bed frames and transcending "town/gown" lines to serve the community together.
Zhang and Skelton were among approximately 150 participants in the university's annual SHOW Day Aug. 23, a day of service that aims to introduce new William & Mary students to the local community – and one another – as they tackle multiple projects with non-profits and other organizations. For the first time this year, community members were invited to participate by the Office of Community Engagement (OCE), which organizes the event. About a dozen local citizens responded to the call, joining students in 10 projects around the area.
"For the first time, we asked local leaders to volunteer alongside our William & Mary volunteers and share their expertise and experience within our community," said Elizabeth Miller, assistant director of OCE. "By connecting directly with community members, we wanted to give SHOW participants a chance to see themselves as part of the broader community, furthering their active citizenship and commitment to Williamsburg. They are not only new students, they are also new residents of the city, and the chance to explore community with their fellow residents and community leaders gets to the heart of that."
Along with the Habitat for Humanity ReStore on Jamestown Road, this year's SHOW Day participants worked with the Arc of Greater Williamsburg, Head Start, Colonial Williamsburg, Heritage Humane Society, the Student Environmental Action Coalition, the W&M Lemon Project, Waller Mill Park, Mattey's Garden and John Whitley, who organizes "Moral Mondays" activism on Duke of Gloucester Street.
"It's just to get students out in the community, get to know community members and some issues that Williamsburg is facing and how they can help and better Williamsburg throughout their four years here," said Skelton, a site leader for the ReStore project.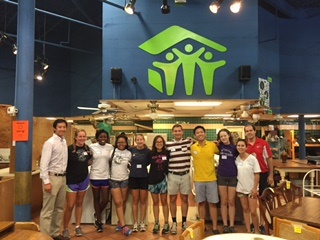 Zhang participated in SHOW Day as a freshman Sharpe Scholar, so when he got the invitation to participate again – now as an alumnus and community member – he was ready to accept.
"Harking back to the good memories in college," he said.
Scott Grafton, owner of Iron-Bound Gym in New Town, also joined the ReStore Group, working with freshman Bethany Wasilik to change lightbulbs. Grafton, who often organizes events at his gym that benefit community organizations, learned about the SHOW Day opportunity through the LEAD Historic Triangle class that he completed last year.
"They sent a message that it's William & Mary SHOW Day and they were looking for volunteers to work with William & Mary students and kind of tell them about the area and other ways to volunteer," he said.
Grafton had never volunteered with students before, but he enjoyed "just getting to know what they think about Williamsburg and getting them comfortable with the other aspects of things to do in the area, besides just taking classes," he said.
Many of the students who participated in SHOW Day have long been interested in service work, they said.
"I've always loved doing volunteer work, whether it's through camps or service or anything like that, so it was cool to come out here and do this today," said Elisa Featherston '20, who worked alongside fellow freshman Kelly Rodriguez at the ReStore, tying matching bed frames together.
"I enjoy volunteering, as well, and trying something new because I've never volunteered for Habitat for Humanity," said Rodriguez. "I've always wanted to, so definitely going into a different kind of realm of volunteering."
Tanner Nelson '20, too, was interested in SHOW Day to expand her horizons.
"I'm really interested in getting out in the Williamsburg community and getting involved, and I thought that SHOW Day was a great chance to get a taste of all that William & Mary community services has to offer," she said.
Nelson said that not only did the day introduce her to an organization she was unfamiliar with, it also introduced her to a new mentor: Emily Daly '19, a site leader for the ReStore project with Skelton. Daly volunteered for SHOW Day as part of her work with the Aim 4 program, but also because "it's a cool experience, and I definitely valued it as a freshman," she said.
"It's a chance to meet other people who are interested in getting involved in the community and see a part of Williamsburg that's not just campus," she added.
Daly, who pulled weeds at Historic Jamestowne as part of her freshman SHOW Day experience, said that she was excited to have community members join students on the project – especially Zhang.
"I voted for him, and now he's here, working with us," she said.