Two students to study in UK as part of Fulbright Summer Institute
Two William & Mary undergraduates will study in the United Kingdom this summer as part of the Fulbright Summer Institute, one of the most prestigious and selective summer scholarship programs in the world.
Nathan Owen '17 will study at King's College London, and Davis Richardson '16 will study at the University of Bristol. They are the first William & Mary students to ever participate in the program, operated by the U.S.-U.K. Fulbright Commission.
"The Fulbright U.K. Summer Institutes provide a unique opportunity for students who have not had the chance to experience Britain," said Lisa Grimes, associate director of the Roy R. Charles Center for Academic Excellence and director of fellowships and undergraduate research. "I am thrilled that two of our students have been awarded grants this year, and I know that Nate and Davis will be excellent representatives of the College. I look forward to working with next year's freshmen and sophomores on their U.K. institute applications."  
Owen is a James Monroe Scholar at William & Mary who is majoring in both computer science and mathematics. He will participate in a three-week institute at King's College London, which is organized under the theme, "Learning, Inventing, and Reinventing: The British City, Past and Present." The institute features cultural and social trips in the city, using the streets of London as the classroom.
"I am incredibly humbled and thankful for the opportunity to leave the United States for the first time aided by the Fulbright commission, even more so as I have my eyes toward the city that some call, 'The crossroads of the world,'" said Owen. "I intend to see as much of London as I can and to learn as much as I can so that I can make the best of this once in a lifetime experience."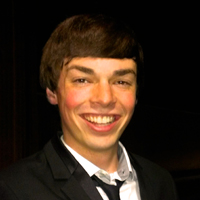 Richardson is also a James Monroe Scholar at William & Mary, where he is majoring in linguistics and Italian studies. He will participate in the Fulbright Commission-University of Bristol Summer Institute for Young American Student Leaders, a four-week cultural and academic program for U.S. students held at the University of Bristol. The theme of the 2014 institute is "Slavery and the Atlantic Heritage."
"I feel truly honored to have been nominated for the chance to study at Bristol this summer," said Richardson. "I hope the work I accomplish there will not only help me to grow as a leader but will also deepen my understanding of the historical forces that have shaped the society in which we live today."
Students interested in the Fulbright Summer Institute go through a rigorous application and interview process. Participants are selected not only based on academic excellence but a focused application, a range of extracurricular and community activities, demonstrated ambassadorial skills, a desire to further the Fulbright program and a plan to give back to the recipient's home country upon returning.
The U.S.-U.K. Fulbright Commission offers awards and summer programs for study or research in any field at any accredited U.S. or U.K. university. The commission is part of the Fulbright program conceived by U.S. Sen. J. William Fulbright in the aftermath of World War II to promote leadership, learning and empathy between nations through educational exchange.
Last year, 14 William & Mary alumni were selected to receive Fulbright U.S. student grants to teach and conduct research in countries around the world.
Current students and recent graduates who are interested in Fulbright opportunities should contact Grimes for application information.