A new record: 14 W&M graduates receive Fulbright grants
More recent graduates of William & Mary received Fulbright U.S. student grants this year than the graduates of any other college or university in Virginia, according to a list of top-producing Fulbright institutions published by the Chronicle for Higher Education today.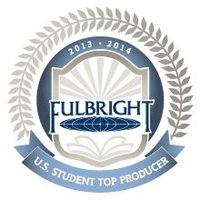 With 14 William & Mary alumni receiving Fulbright grants and four others named as alternates, the university set a new record for itself, breaking one set in 2010 when 13 W&M graduates received Fulbright scholarships.
The recipients will use the grants to travel to countries around the world during 2013-14, teaching and conducting research in a variety of fields.
Earlier this year, W&M News reported that 13 recent graduates had been selected for scholarships. However, since then, one student declined a grant, and two who were alternates were chosen to receive the grants.  Dylan Murray '12 will travel to Brazil in the spring to pursue his research topic, "Environmental and Economic Impacts of Amazonian Payment for Ecosystem Services Programs." Sophie Berman '13 will travel to Columbia on an English Teaching Assistantship.
According to the Chronicle story, 53 William & Mary graduates applied for Fulbright scholarships this year. With 14 awardees, W&M is tied with the University of North Carolina at Chapel Hill on the list at 20th among research universities. Among public universities on the list, W&M and UNC are eighth.
The large number awardees this year might be due in part to a new program sponsored by the Roy R. Charles Center. Called Fulbright Fridays, the five-week program was first offered in spring 2012.
"The idea was that each session would build on the one from the previous week. By the time students had gone through all five, they would have a good draft of their personal statements, a good idea of their project proposal, know which country they were going to and, more importantly, why they were going there," said Lisa Grimes, Fulbright Program adviser and associate director of the Charles Center.
Beyond the Charles Center programs and peer scholarship advisers, Grimes pointed out that students seeking Fulbright grants receive a great deal of support from the overall William & Mary community.
"The College's emphasis on research certainly gives us a higher caliber of full grant applications. The William & Mary faculty's commitment to this program is also extraordinary in terms of mentoring and encouraging students," Grimes said.
According to the Fulbright website, the Fulbright U.S. Student Program – sponsored by the State Department's Bureau of Educational and Cultural Affairs – is the largest U.S. exchange program for students and young professionals seeking international graduate study, advanced research and teaching opportunities worldwide. Around 1,900 grants are annually awarded by the program, which operates in more than 140 countries worldwide.
Graham Bryant J.D. '16 and Erin Zagursky contributed to this story