W&M Dining's executive chef earns ProChef III certification
William & Mary Dining's Executive Chef Denis Callinan has earned the prestigious ProChef III Certification through the Culinary Institute of America (CIA).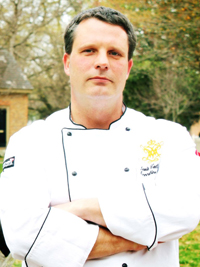 The CIA ProChef Certification program is a comprehensive professional development and culinary skills verification program that measures core culinary, managerial and financial acumen. The completion of ProChef III is the culmination of a ten-week program that requires online coursework and applied kitchen preparation. The final phase was a four-day practical and written exam judged by certified master chefs at the CIA's Hyde Park, N.Y., campus.
"We are extremely proud of Chef Denis and all of his accomplishments. ProChef III is a huge achievement and we look forward to him sharing his culinary expertise and skills with the entire William & Mary campus community," said Matt Moss, director of William & Mary Dining.
Currently, only 13 Aramark higher education chefs have received the ProChef III Certification.
Denis has been a part of the William & Mary culinary team for eight years and is a graduate of the Culinary Institute of America. During his tenure at William & Mary, he has implemented numerous changes to the residential dining program including adding a wok station, homemade hamburgers and fresh cut French fries and was instrumental in bringing a homemade bread program to the campus. Denis also aided in implementing "Outside of the Box," a nationally recognized special dietary program and has revamped menu offerings for the catering department.