W&M Dining among top programs in the nation
William & Mary Dining has been ranked as one of the top dining programs in the country, according to The Daily Meal, a culinary news site.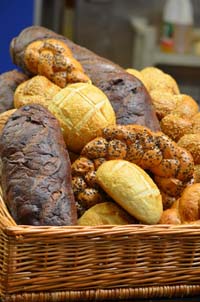 The university was ranked at 43rd among the "52 Best Colleges for Food in America," as rated by the site.
Besides the "chocolate-chip buttermilk pancakes, the grilled Italian sausage with peppers and onions and coconut-orange Asian noodle salad," The Daily Meal was impressed with the "responsible procurement" adopted in all the dining facilities.
"We are very proud of our ranking amongst some of the best dining programs in the nation; however, there is still room for growth.  At the end of the day, it is all about responding to the students and meeting their needs on a daily basis," said Matt Moss, director of dining.
This year, W&M Dining introduced fresh bread made on site, local produce available on the salad bar, wok stations at the Commons and a "Text 'n' Tell" system which provides real-time feedback.