Sadler dining hall to receive $8 million expansion
Next fall, students at William & Mary will have a larger dining facility at Sadler Center, improved food and a place to go when they get hungry in the middle of the night.
University officials hope to begin work in December on an $8-million, 7,000-square foot expansion of the dining hall in the Sadler Center. A facility that presently boasts 300  seats will more than double in size. Where there is only one entrance and one place to pay, the new Sadler dining hall will have two entrances and three pay stations.
And there will be an area designated for late-night dining.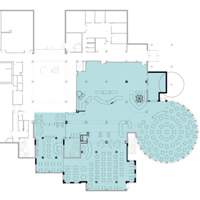 "We have been talking about this for a little over a year," said Anna B. Martin, W&M's vice-president of administration. "Part of the commitment we made when we instituted the rollout of the four-year mandatory meal plan for residential students – freshmen last year, freshmen and sophomores this year – was that we would improve the food service and seating capacity at the Sadler Center. The funding to support the expansion was built into the financials when we developed the mandatory plan. Of all the things that our students thought needed improvement in our dining services program, Sadler Center operations stood out as the most urgent need to address.  So we are addressing it."
It is the first-ever expansion of the Sadler Center, which opened in 1993 and has become students' first choice for lunch because of its proximity to classroom buildings.
"We've been trying to fit somewhere between 1,600 and 1,700 students through that facility in a one-and-a-half to two-hour lunch period with only 300 seats and a very disjointed serving area," Martin said. "When Sadler opened, there were 7,200 students here. It's now almost 15 years later, and we have 8,200 students.
"Adding 400 seats to raise the total number to 700 and redesigning the serving areas will really ease the congestion in there and make dining a more pleasant experience."
The architecture firm of Clark-Nexsen has completed the design.
The expansion plans will not interrupt dining service in the faciltiy during the spring semester, Martin said.