Marjorie S. Thomas named dean of students
Marjorie S. Thomas, associate vice president for student affairs at the College of Charleston, has been selected as William & Mary's next dean of students.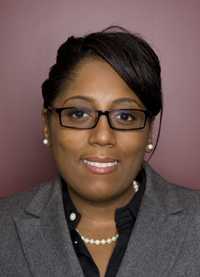 Thomas, who has 20 years of experience in the field of higher education, will assume the role on July 1, 2013, following the retirement of Patricia M. Volp. Volp has served as William & Mary's dean of students since 1997 after fulfilling the same role at two other colleges. Following her retirement, she plans on staying in Williamsburg and pursuing her longtime interest in photography.
"Marjorie Thomas brings a wealth of experience to this critical student affairs role. Together, her record of professional accomplishment at a variety of institutions and her personal qualities position her to be an outstanding dean of students for William & Mary," said Vice President for Student Affairs Ginger Ambler. "We look forward to welcoming Ms. Thomas to campus, even as we bid farewell and offer our profound gratitude to Trish Volp who has served our students and the wider W&M community with uncommon dedication and passion for the last 16 years."
Reporting directly to the vice president for student affairs and serving as a member of the vice president's senior leadership team, Thomas will "collaborate with the departments across campus to ensure student success and to manage student crises," according to the position announcement. An advocate for undergraduate and graduate students alike, "the dean [and her staff] works to promote students' academic and personal success, to ensure a supportive and inclusive campus environment, to support a strong sense of community and personal integrity among students, and to support student learning both in and outside of the classroom." The dean of students also supervises several student life program areas including academic enrichment programs, student honor and conduct, services for students with disabilities, transfer student services, case management and the Center for Student Diversity.
"I am so excited to serve as your incoming Dean of Students," said Thomas. "The commitment to student success by the Division of Student Affairs, along with the experience and expertise of the Office of the Dean of Students, made this position very attractive and is reflected in the work accomplished on behalf of William & Mary students every day. Through our partnerships with faculty and Williamsburg community members, l hope to honor that commitment by further supporting and engaging our outstanding students. Go Tribe!"
In her current role as associate vice president for student affairs, Thomas manages policy development and strategic planning for the Division of Student Affairs, which includes 22 departments and a $31 million operating budget. She works closely with the executive vice president and supervises the directors of numerous departments and programs including the Center for Civic Engagement, Multicultural Student Programs and Services and the Bonner Leader Program. In addition to serving in her current role, Thomas has also been the director of the McNair Scholars Program and the student resource coordinator for the College of Charleston since 2009.
Before assuming her current position, Thomas served as the assistant vice president for student affairs at the College of Charleston, a position she held from 2007. Prior to her time in Charleston, Thomas worked at the University of Miami beginning in 1995 as the assistant director and coordinator of minority recruitment. Two years later, she became the associate director of multicultural student affairs before finally becoming the university ombudsman and assistant to the vice president for student affairs.
Throughout her career, Thomas has been highly involved in community service and professional organizations, including the Council for Opportunity in Education and the American Bar Association. She has given multiple presentations and served on numerous committees, including the College Retention Committee at the College of Charleston and the University Strategic Plan Coordination Committee at the University of Miami. Her work has earned her several awards, and the University of Miami named her Administrator of the Year.
In addition to her college administration work, Thomas has also served as an adjunct faculty member and instructor at the Citadel, Florida International University and the University of Georgia.
A 1993 graduate of Florida International University, Thomas earned a master's degree from the University of Georgia and a law degree from Florida A&M University.
Thomas was selected for the position at William & Mary following a national search.
"I am so excited that Ms. Thomas has accepted this position," said Mike Schilling '13, a member of the search committee. "Her student-centered approach was instantly apparent to the search committee, and her experiences match the position perfectly. Most importantly, I feel that her warm personality will make all members of the Tribe community feel welcome in the Dean of Students Office. Students will certainly flourish with Dean Thomas working towards their success."