Matthew T. Lambert named W&M's vice president for development
Alumnus Matthew T. Lambert '99, who is now associate vice president for university development at Georgetown University, has been named William & Mary's next vice president for development.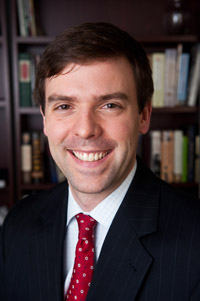 Dr. Lambert comes to W&M following a remarkably rapid rise at Georgetown. Since 2009, he has served as associate vice president for university development, with responsibility for leading the university's development team toward successful completion of an historic $1.5 billion campaign. Lambert earned his undergraduate degree in psychology and sociology at William & Mary. He went on to receive a master's degree from The Ohio State University, and a doctorate in higher education management from the University of Pennsylvania, where his dissertation earned distinction.
Lambert, whose appointment was approved Friday by the William & Mary Board of Visitors, will begin at W&M later this spring after completing work at Georgetown. He moves into the position following Sean Pieri, who left William & Mary in fall 2012 to become vice president for advancement at Colorado College. Earl Granger has served as interim vice president for development since Pieri's departure.
"Matthew puts enormous energy into all he does, and he has developed great prowess in the field of development over the course of relatively few years.  He has accomplished an amazing amount.  He is also a son of William & Mary with a powerful commitment to the College, its past and future, and a deep understanding of what makes William & Mary William & Mary.  It can be fairly said that Matthew was born to return to the College and lead an enterprise critical to the success of the university in the 21st century," President Taylor Reveley said.
"We thank another son of the College, also deeply committed to its welfare and one of its most important leaders, and that's Earl Granger.  He has been serving splendidly as interim vice president for development.  Our philanthropic efforts have moved forward seamlessly and effectively under his leadership.  Earl will continue to play a key role in our development operation."
Lambert began work in Georgetown's Office of Advancement in 2002, helping to complete the university's first $1 billion campaign and earned five promotions during his tenure.  In his current role overseeing all development efforts for Georgetown's main campus, he is responsible for all undergraduate and graduate schools and the sizable regional development team in addition to athletics, mission and ministry, library, student affairs, and other strategic priorities of the university.
Engaging alumni, students, parents, faculty and staff, Lambert created and oversaw unique programs at Georgetown where all stakeholders actively assisted the university's advancement efforts.  A major focus of his efforts involved support for faculty endowments and student scholarships, as well as capital building projects. Lambert is also credited with leading efforts to find, develop and retain Georgetown's successful development team. He will bring those experiences to William & Mary.
"For more than a decade, Georgetown has been privileged to have Matthew as a member of our community," said Georgetown President John DeGioia.  "His service has strengthened our efforts to more deeply engage our alumni and friends as well as our work to sustain a competitive trajectory into the future.  We're grateful for his commitment and service, and he has our very best wishes as he returns home to William & Mary."
Lambert's roots at W&M run deep. His wife, Karen Silverberg Lambert '98, was president of her senior class and chair of the College's beloved bone marrow drive.  His brother, Brian, graduated from the College in 1997 and his aunt, Louise Lambert Kale, is the executive director of the historic campus.  He is the grandson of J. Wilfred Lambert '27, who enjoyed a storied career at the university as a teacher and administrator. Lambert's grandfather served as dean of students from 1945 until 1970. In 1970, he became as the College's first vice president for student affairs and served in that role until his retirement in 1973.  His grandmother, Anne N. Lambert '35, was also active at the College and Alumni Association throughout her life.
"It is an honor and a privilege to serve my alma mater as we seek to secure William & Mary's future with greater levels of philanthropy. Private support will be critical for great universities to thrive in the years ahead and will have significant impact on advancing this world-class university—where teacher-scholars and bright students engage in life-changing educational experiences.  I look forward to working closely with President Reveley and the many talented students, faculty, and staff to ensure that the uniqueness of a William & Mary education endures and is strengthened for future generations," Lambert said.  "Karen and I are thrilled to come home to William & Mary."
As an undergraduate, Lambert quickly made his own mark at the nation's second oldest institution of higher education. He was the recipient of two of William & Mary's most prestigious awards. Lambert won the Algernon Sydney Sullivan Award "in recognition of influence for good, and characteristics of heart, mind, and conduct" and the Benjamin Stoddert Ewell Award for outstanding leadership and service to William & Mary.
Sam Sadler, who worked at William & Mary for 41 years, including 19 as vice president for student affairs until his retirement in 2008 knows Lambert well.
"Matthew was always an active and engaged student, one with a compelling natural enthusiasm, a thoughtful concern for others, natural leadership ability, and a sincere love for William & Mary," said Sadler '64, M.Ed.' 71.  "All of those qualities are still very much evident in the man he has become.  Through his graduate study and work experiences, however, they are blended now with a deep commitment to the academic enterprise, an extraordinary work ethic, and a sophisticated understanding of the role of development in the modern university – not to mention a record of significant accomplishment.
"Matthew represents the best of William & Mary and is a fantastic selection to be the next vice president for development," Sadler added.
Since graduating, Lambert has remained intimately connected to the university. He has served on the board of directors of the Fund for William & Mary, and he co-chaired two of his reunion gift committees. Lambert has also remained active with the William & Mary Alumni Association and the Cohen Career Center, serving as an alumni mentor and internship host.
Lambert has a deep-seated interest in all aspects of higher education, as evidenced by his post-graduate degrees and his current research and scholarship about the effects of privatization in higher education. Lambert was an adjunct assistant professor at Georgetown's Edmund A. Walsh School of Foreign Service, where he taught a course on education policy in this era of globalization. He plans to continue teaching at William & Mary. 
Lambert will assume his new position late spring; Karen and their two children, William and Harrison, will join him in Williamsburg later this summer.