Alumna's MTV talk show to premiere Tuesday
In 1993, MTV premiered a late-night talk show hosted by an up-and-coming comedian by the name of Jon Stewart '84, a William & Mary alumnus.
Now, 20 years later, another William & Mary graduate is about to follow in Stewart's footsteps with her own MTV show.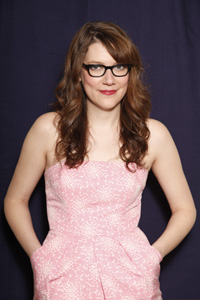 Sara Schaefer '00 will co-host of MTV's Nikki and Sara LIVE, which premieres Jan. 29 at 11 p.m. EST. The show, which will include comedy sketches and interviews, will air live every Tuesday night from a studio in Times Square. The W&M Alumni Association is hosting a viewing party for the show at the Alumni House on Wednesday at 6 p.m.
"I'm massively excited because, well, this has been a dream of mine for as long as I can remember," Schaefer said in an e-mail to W&M News last year. "I have worked really hard for over a decade to make this happen -- and suffered through a lot of rejection along the way -- so it feels like the gamble is finally paying off."
Schaefer will co-host the show with Nikki Glaser, who was once a semi-finalist on Last Comic Standing. The two formerly collaborated on the weekly podcast series "You Had to Be There."
A native of Richmond, Va., Schaefer double-majored in theatre and English at William & Mary. She also was one of the first members of what is now the "7th Grade" sketch comedy group.
Schaefer went on to serve as the head blogger for Late Night with Jimmy Fallon, where she earned two Emmy Awards. In 2010, she was named as one of Comedy Central's Comics to Watch. She has also appeared on numerous shows, including Best Week Ever, and has written for others, including Who Wants to Be a Millionaire.
In November 2012, Schaefer visited W&M to perform an evening of stand-up comedy as part of the W&M Arts & Entertainment Alumni Council's inaugural Arts & Entertainment Conference.
And as she takes on her new gig at MTV, Schaefer sees what is maybe becoming a new W&M tradition.
"It's weird, when we got the call letting us know we got the show, they pointed out that the last time MTV did a late night show, it was Jon Stewart's," Schaefer said. "That felt crazy to me. Only a handful of people at any given time get to host a TV show, and soon, I get to be in that same category.
"I feel very lucky -- and I'm pretty sure W&M is now going to be known as the 'TV host' school."