Second City comedy tour coming to W&M
Alma Mater Productions is bringing legendary comedy from Chicago to the streets of Williamsburg.
On Feb. 2, William & Mary's Phi Beta Kappa Hall will host Chicago's famous sketch-comedy program The Second City: Laughing Matters, featuring some of the best sketches, songs and improvisations from The Second City's 52-year history.
"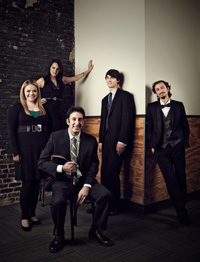 With economic uncertainty, political gridlock and a dearth of Khardashians clogging up our televisions, laughing has never mattered more and The Second City promises to deliver some much needed silliness and hilarious spontaneity to a world in need comic relief," according to Second City promotional material.
With both scripted and improvisational elements, audiences always enjoy being part of the show and playing along with the next generation of comic legends. 
The Second City has produced some of America's most famous comedians, including such alumni as John Belushi, Mike Myers, Bill Murray, Tina Fey and Stephen Colbert.
William & Mary will host The Second City's Green Company, including such up-and-coming talents as Kate Lambert, Eileen Montelione, Daniel Strauss, Tim Ryder and Kellen Alexander.
Tickets for The Second City will be $3 for students, $8 for the public and can be purchased at the door. For more information, visit the AMP website or the event page.