Secretary Arne Duncan to hold 'Presidential Roundtable' at William & Mary
U.S. Secretary of Education Arne Duncan and U.S. Under Secretary of Education Martha Kanter will be at William & Mary July 13 to lead a discussion on affordability and accountability in higher education.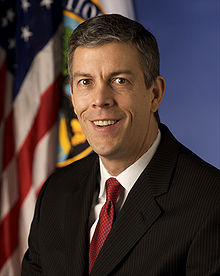 William & Mary President Taylor Reveley will co-host the event, titled "College, Cost & the Commonwealth: A Presidential Roundtable." The panel will include presidents and other high-ranking educational officers from college and universities in the region. The roundtable, which is free and open to the public, will be held from 1:15 p.m. to 2:30 p.m. in the Matoaka Woods Room at the School of Education building, located at 301 Monticello Avenue.
The Secretary and Under Secretary's visit to William & Mary is part of an ongoing series of conversations that senior Obama Administration officials are having with the higher education community across the nation on college access and affordability. The panelists will consider higher education's funding model as well as rising tuition, student loan debt and how university leaders propose addressing the financial challenges facing colleges and universities in the Commonwealth and beyond.
In addition to Sec. Duncan, Under Sec. Kanter and President Reveley, confirmed participants as of July 6 include Regent University President Carlos Campo, Thomas Nelson Community College President John Dever, Virginia Community College System Chancellor Glenn DuBois, Virginia State President Keith Miller, Old Dominion University Provost Carol Simpson and Richard Bland College President Debbie Sydow.
For directions to the School of Education building, please visit the school's website. Members of the public are encouraged to arrive by 1 p.m. to secure seating. Media wishing to attend should contact Brian Whitson at bwwhit@wm.edu or 757-221-7876 or Suzanne Seurattan at scseur@wm.edu or 757-221-1631.