Monroe Scholars get jumpstart on research experience
David St. John '11 will spend the summer researching one of his favorite things: food.
He is one of about 200 James Monroe Scholars who design and conduct an independent research project each summer. The program offers students a great opportunity to get a jumpstart on the ins and outs of conducting their own research.
"These research projects take students all over the globe," says Joel Schwartz, director of the Charles Center, which facilitates the Monroe Scholarships. "Final projects can range from a sculpture to a novel, but most culminate in a research paper."
Monroe Scholars represent the top seven percent of the College's student body. Funded largely through private support, the program guarantees the students $1,000 for projects after their freshman year and a $3,000 summer scholarship after their sophomore or junior year for research projects of their own design.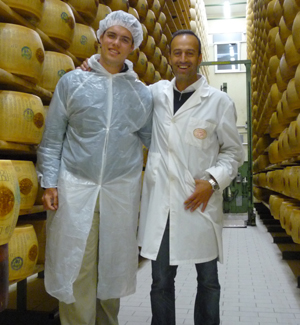 For David, that means turning his long-time interest in cooking and the food industry into a study on the increasingly popular locavore movement.
"The local food movement is the single greatest change in food production and consumption in America in decades," says St. John, a double major in history and government. "I aim to better understand this movement by exploring the local food system of Hampton Roads and comparing it to the Parma region of Italy, the culinary capital of Italy, where men like Carlo Petrini, author of Slow Food Nation, have worked diligently to preserve and protect Italy's food culture."
"By studying and working with the farmers and artisans, middlemen, and chefs of both of these regions, I hope to grasp not only the skills and work required but also the logistics and costs associated with local production and consumption," he continued. "It will also provide an opportunity to compare a mature, long-established local and slow-food movement in Italy to an embryonic and evolving movement in Virginia."
Many attribute the movement's American beginnings to California chef Alice Waters, who, through her Berkeley restaurant Chez Pannise and cookbooks, popularized menus based on the local bounty of her area. Wal-Mart has joined the movement, announcing its intention to buy more from local food sources.
"I am particularly interested in the economic opportunities that could come from providing exposure and distribution to local artisan food producers and the possibility of  creating a business to make their unique products commercially productive to gourmet and other specialty food retailers," says St. John, who enjoys gourmet cooking and has developed some of his own original recipes.
St. John's methodology for his research includes a combination of classroom study and personal interviewing. He has taken macro- and micro-economics at William and Mary, and he plans to use the strategies learned in his political statistics course to conduct a survey of local food producers. In May, he took Professor Hiroshi Kitamura's course on the slow-food movement, which culminated in a one-week stay in Parma, best known for producing Parmigiano-Reggiano cheese, Prosciutto di Parma, pasta, extra virgin olive oil, and balsamic vinegar.
"My background in government and history has been extremely helpful in understanding how this movement works," says St. John. "It is fascinating to see how Italian food producers have gained strong government support and use modern science and technology to improve their product without compromising quality or tradition. I am curious to see if the success we see there can be translated here."