WMSURE Students on the Move: Gabrielle Bozeman, Remembering the Civil Rights Movement, Birmingham, Alabama
             Gabrielle Bozeman Reflects on her Study Away to Birmingham, Alabama
This summer, I took a step out of my comfort zone and took a class that involved a study away program based in Alabama. The class was called "Honestly Remembering Together" and the goal of it was to find a way to honestly remember America's racial history. We spent the weeks leading up to our trip learning and reading about the history that is not often spoken about in a typical history such as the Freedom riders and the story of the four little girls who were killed in Birmingham. We also tied events in the past to the present. For example, the lynchings that took place during Reconstruction were compared to the modern day death penalty.  Many of the topics we talked about in class related to the places we went and the people we talked to in Alabama.
While in Montgomery, we visited the National Memorial for peace and Justice which honored victims of lynchings. We also visited the Legacy Museum. During this time, we were able to reflect on the history of racial violence and connect them to the death penalty. We also met with the lawyers in the public defender's office in Montgomery. They explained their experiences in defending people who are often treated as guilty until proven innocent. Their jobs are extremely important in fighting against the biased criminal justice system.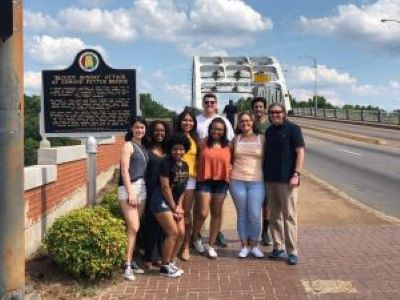 On our way to Birminham, we stopped in Montevallo and met with Rev. Dukes, who is the president of the local NAACP.  He gave us hope and advice as a younger generation of activists.  He encouraged us to be the generation to create the change we wish to see in this country. We met many more people who helped us see that there is hope for improvement in even the places we would least expect it.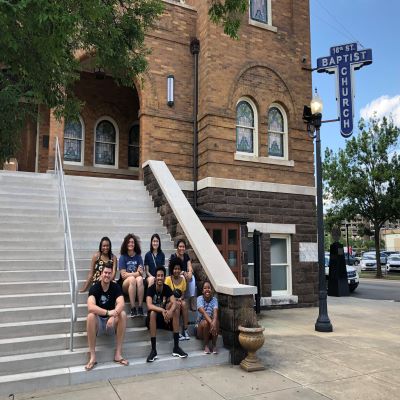 Alabama is known for being a state where the remains of the Confederacy are still present and noticeable. However, there are people there who are actively fighting against the prevalent issues. An important lesson would be that we can also be doing the same in our own lives. For example, the criminal justice system is a big issue to tackle, but we do not necessarily need to tackle it all at once. There are smaller ways in which we individually can help even in our daily lives.
Gabrielle Bozeman