Daniel Villegas Presents Paper at the Academic & Health Policy Conference in Las Vegas, Nevada
Daniel Villegas is a current junior at the College, majoring in Biology, and minoring in Judaic Studies. Growing up in Northern Virginia as a first-generation student, Daniel was not entirely sure what college would be like, nor what research entailed. As a freshman who attended WMSURE sessions, Daniel saw the value of research and began to get involved in Research with Dr. Obasanjo in Kinesiology. He went on to receive a Charles Center Grant for summer research where he researched maternal mortality in the United States prison system. After his research in the summer, he went on to present at the Academic & Health Policy Conference on Correctional Health at the Luxor Hotel in Las Vegas, Nevada. He presented findings from his work, showing that there was a relationship between the Latino and African-American female populations in prison and the increased maternal mortality in most states.
He recalls:
"It was an amazing experience to see so many health professionals and ask questions on many different topics related to correctional health. It was also a little nerve-racking since I was the only presenter that didn't have any credentials after my name, but it was very empowering to present alongside real professionals in the field."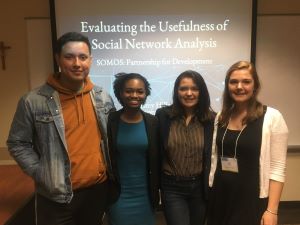 In addition, Daniel has worked with SOMOS y MANOS, where his group researches in Santo Domingo, Dominican Republic and works with a local community to help them increase positive health outcomes. He went on to present at the Kellogg Institute Human Development Conference. Specifically, he presented the Social Network Analysis framework used to explain how the connectedness in a community influences community capacity and leads to positive health outcomes.
When asked about why he attended conferences and what the value is, he answered:
"I've really enjoyed all the opportunities William & Mary has afforded me and want to encourage others to attend and present at conferences. The ability to network with professionals and add the conference to your resume will help whatever future plans you might want to pursue."
Daniel has only begun, and plans on attending more conferences in the future and be fully involved in the academic discourse that is research.