Danielle Brown Participates in Winter DC Program
As a liberal arts college, The College of William and Mary prides itself on producing students that are well-rounded and engaged in the world. As part of the college's curriculum, students are urged to partake in a global or cross-cultural context. In order to fulfill this requirement, Danielle Brown, a Pre-Med senior majoring in Neuroscience chose to participate in W&M's Study in DC program.
Danielle is also a WMSURE Senior Fellow and she gives credit to the WMSURE program for being her "most prominent safe space for love and support" during her time at the College. As an aspiring physician, Danielle wishes to bridge the gaps in health equity in the United States, hence why she decided on the public health course offered by the WM DC Institute. The course was geared towards health equity, sustainability, and well-being in the global age.
As part of the wholesome experience many W&M organizations emphasize, the DC program provided students, including Danielle, with opportunities to engage with individuals and organizations in the Washington D.C. area. Similarly, the DC program aided students with site visits in the DC area. Danielle asserts that the most meaningful part of the DC program experience was engaging with low-income populations in the city. This was made possible through a community center called TheARC, a center that provides a variety of services, from healthcare to performing arts, for populations in DC that would otherwise not have these resources.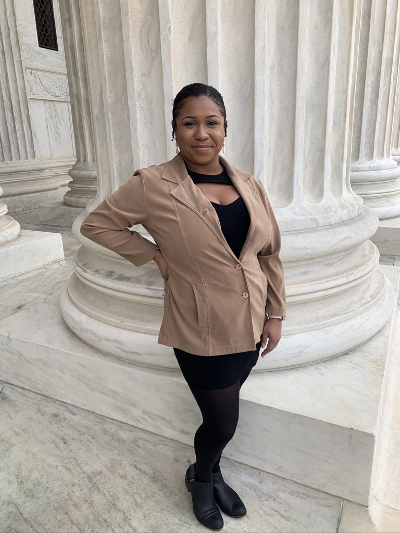 Danielle expressed the change in perspective this visit inspired, regarding the privilege she held. Growing up in Newport News, Virginia, Danielle never saw herself as well-off. However, through interactions with the people at this facility, she realized the prevalence of historical social oppression, specifically in "socio-economic status and how it can negatively affect the most important necessities in a person's life." For example, Danielle had access to healthcare through the US Uniformed Services, something unavailable to many of the low-income populations in DC.
To emphasize the impact of this, she said, "Most of these people are not deemed as worthy of the opportunity to build a comfortable life for themselves simply because they are born into poverty; or worse, are born of color." Even under these circumstances, lawmakers aren't doing much to eradicate the problem at hand. Although this may be true, Danielle praises TheARC for the work they do to make a difference in a community that most needs that support. Similarly, she spoke of her awe of the passion and advocacy demonstrated by the physicians who worked in the center. Danielle believes in order to stimulate change, "people with privilege and power have to use their voice and advocate for those who cannot sufficiently advocate for themselves."
Post-graduation this May, Danielle will be joining the Peace Corps Volunteer Service in Mozambique as a high school STEM teacher, youth developer, and HIV/AIDS advocate for 27 months. This is a commitment that aligns with her interest of volunteer work apparent with her involvement in several volunteer-based organizations both during high school and college. At the completion of this, she plans to attend medical school and become a practicing physician.