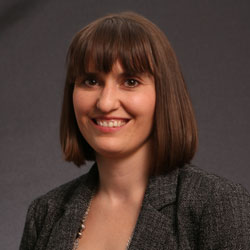 Amy Quark
Professor
Office: Boswell Hall 214
Email: [[aaquark]]
Research Areas: Globalization; Uneven Development; Transnational Governance; Food and Agriculture
Office Hours: Fall:

Areas of Specialization
Socio-economic Change, Political Sociology/Political Economy,  Globalization, Global Inequalities, Governance and Regulation, Agro-food Systems, Local/Community Development
Education
B.A., International Development, University of Regina
M.S., Rural Sociology, University of Wisconsin-Madison
Ph.D., Sociology, University of Wisconsin-Madison
Research
Professor Quark's research broadly addresses the themes of globalization and global inequalities. She is particularly interested in how states, firms and civil society actors negotiate new economic governance mechanisms on a global scale. Her current research focuses on the construction of authority relations and hybrid governance institutions for the global cotton trade. She considers how competitive dynamics compel firms and states to make claims to authority over quality standards and contract rules to facilitate the transnational cotton trade. She explores how authority is constructed as legitimate on the global stage and the implications of new authority relations for how the benefits of trade are distributed. Professor Quark has also conducted research on the how neoliberal globalization impacts local economic development in Wisconsin and Saskatchewan.  Professor Quark has published articles in such journals as Rural Sociology, Review: Journal of the Fernand Braudel Center, the Journal of Rural Studies and Qualitative Sociology.