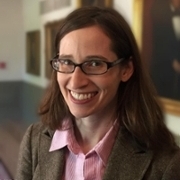 Mary Fraser Kirsh
Visiting Teaching Professor of Judaic Studies
Email: [[mfkirsh]]
Office: Wren 310
Interests: Holocaust history, Jewish identity in post-Holocaust Europe, memorialization of the Holocaust, Jewish childhood, gender and Judaism, Jewish memoirs, refugees and religion

Mary Fraser Kirsh, visiting assistant professor of Judaic Studies, earned her B.A. in history from William & Mary, her MSt in Jewish Studies from Oxford University, and her Ph.D. in modern Jewish history from the University of Wisconsin - Madison. Her research interests include Jewish childhood, memoir writing, and Jewish life in post-Holocaust Europe. One of her favorite teaching experiences has been serving as a tour guide for a journey through Jewish Poland.
Dr. Kirsh has been awarded the Life Reborn Fellowship at the United States Holocaust Memorial Museum and the Fred and Ellen Lewis Jewish Joint Distribution Committee Archives Fellowship. Publications include: "La politique de placement des enfants en Grand-Bretagne et en Palestine" in L'enfant Shoah, "Shattered by Mental and Physical Strain: The Treatment and Assimilation of 'Defective' Child Survivors" in Life in the Aftermath: Displaced Persons and Child Survivors on the Move, "Remembering the Pain of Belonging: Jewish Children Hidden as Catholics in World War II France" in The Young Victims of the Nazi Regime: Migration, the Holocaust, and Postwar Displacement, and "Storytelling and Family Building, from Belsen to Ireland" (forthcoming).
Presently, she is at work on her book manuscript, Writing the Recovery: Stories of Rehabilitation in the Post-Holocaust Era.
Courses:
RELG 150 Writing the Self: An Exploration of Jewish History Through Memoirs 

RELG 309 The Holocaust 

RELG 311 Modern European Jewish History 

RELG 211 Introduction to the History of Jewish Thought 

RELG 327 Sexuality, Women, and Family in Judaism