W&M faculty, students excavate Sanctuary of the Great Gods
William & Mary faculty members and students working at an archaeological dig this past summer not only made new finds, but added to the extensive amount of information about the site already on record.
Classical Studies Lecturer Andrew Ward and Assistant Professor Jess Paga took three students to excavate the Sanctuary of the Great Gods on the Greek island of Samothrace from June 23 through Aug. 11.  Elizabeth Dowker '20, Robert Yancey '19 and post-baccalaureate student Madeleine Nelson learned about all facets of the work, which Americans have been doing at the site since the 1930s and is currently led by Emory University and New York University. The W&M students will spend the fall and spring semesters on data processing and synthesis of their summer work.
Paga received a W&M Arts & Sciences Annual Fund grant through the dean's office that facilitated bringing students to the Mediterranean, while Ward is a 2019 Reves Faculty Fellowship recipient.
Samothrace was famous in antiquity for its mystery cult, which peaked in popularity in the 4th to 2nd centuries BCE with the construction of some of the most architecturally adventurous buildings of the Hellenistic period and the dedication of the famed Winged Victory (Nike) statue that's now in the Louvre. Now in the second year of a five-year research initiative trying to understand key issues of phenomenology and access, researchers continue to study the site.
Ancient worshippers would come to the island, and they would be ritually initiated in secret.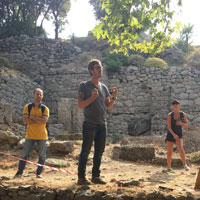 "And only when you were initiated would you start to understand the truth of the sanctuary," Ward said. "Supposedly, according to written sources, once you were initiated you would become a better person in all ways and be lucky and be safe at sea."
The current research is focused on how ancient initiates moved through the sanctuary, navigating the island's rough terrain and torrential water, and the effect that this movement had on their experience of the site. Crucial to that is the ravine that runs through the middle of it.
This summer, the group found stone and concrete pieces of the ancient ravine lining that was built to contain the flow of water. Especially exciting, Paga said, was that researchers discovered divergences in the ravine that are clear evidence that its course changed over time. They also found part of a staircase in an area known as space K that indicates such conveyance was used to help initiates get around.
Smaller finds included Paga's discovery of an area where vessels for drinking wine during rituals were discarded. Conservators were able to put back together the pieces of the black gloss feasting cups and bowls.
The W&M group also found several items that had washed up against the ancient ravine walls. They included a silver coin with the head of Athena on it and an ionic column base believed to have washed down from a dedicatory monument above on the Stoa terrace, according to Paga. They also found conical bowls in another area and architectural blocks from some of the most sacred buildings in the sanctuary.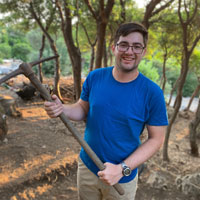 "This summer, I learned a lot about excavations in sites that were excavated earlier in archaeology's history, and the problems that arise from that type of situation," Yancey said. "In terms of my excavation skills, after I helped fill out the stratigraphic unit sheets and gave presentations of the various trenches I was working in, I feel like I developed a much deeper understanding of stratigraphy and how anthropogenic and non-anthropogenic actions can impact the soil."
Students participated in field work in the mornings and in the afternoons continued the work of documenting previous finds for publication.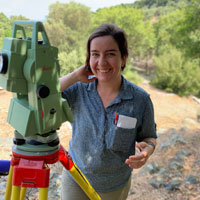 "The people I was lucky enough to work with were great teachers and collaborators, sharing their considerable experience both with the site and with data visualization approaches," Nelson said. "The entire experience was the ideal opportunity to test and hone skills I learned in the classroom in a real-world application."
Inputting and managing data both new and old is a big part of the work, and students will continue to archive photos and work on 3D models for plans during this school year. Those will inform a planned journal article, according to Ward.
"We want them to understand the processes of excavation, the processes of protocols, digitization, documentation," Paga said. "So that when they leave the island, they have a much fuller and more robust understanding of the nature of the discipline of archaeology."
She also pointed out that the Samothrace project is unusual in American-led Greek archaeological field projects in that it is directed by a woman and includes a mostly female crew in many different roles. Paga was very glad the W&M students got to experience that.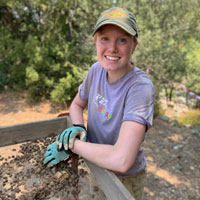 "I felt extremely fortunate to be welcomed onto such an intellectually engaging and forward-thinking project," Dowker said. "Excavating at such an important site as the Sanctuary of the Great Gods made me feel trusted as a skillful undergraduate excavator. It increased my confidence in my skills in excavation and survey, and showed me where I can further develop my professional interests."
Faculty members emphasized the broad range of experience that students are exposed to on the dig. The site crew included archaeologists, specialists in geospatial studies and geographic information systems, geologists, geomorphologists, chemists, computer scientists and conservation specialists.
"And what's been very nice is that all of these members who are coming not only from William & Mary, but Emory and a number of other American institutions, have been really willing to also teach the students," Ward said. "And so all three of the students — Robert, Madeleine and Elizabeth — were able to not only excavate and learn excavation techniques, but then also work very heavily with survey and 3D reconstruction, work with the geomorphologist, work with architectural study.
"And so it's a much more holistic mission than having the students come and dig, wash pottery and that's about it. It's really about giving them a broad understanding of how our engagement with antiquity is not just one discipline, but really is this inter-disciplinary thing."