Alumni Updates: Class Years 1980-89
Archive
Below are archived updates for alumni graduating between 1980 and 1989. Visit the main Alumni Updates page for more updates received this year. Month and date update received shown in parenthesis.
Gunvor Weirick Sacks '80 (BS - Biology, German) I have been married to David Sacks (also Class of 1980 with a BA in Government) for 27 years, and we are still living in Richmond VA. Currently I work as an Emergency Medicine Pediatrician at Chippenham Medical Center and at KidMed, an urgent care center for pediatric patients. We have 3 children--Stefanie, 23, Miami (OH) class of 2011 who works for the Richmond Flying Squirrels baseball team; Jeffrey--19, a sophomore at Christopher Newport University; and Emily 17, a senior at Maggie L. Walker Governor's School, who is applying to William and Mary for the fall of 2013! (10/12)
Greg Vogel '80 (MA - Biology) Celebrating my 20th year as a freelance science & medical writer. Recently won two "Telly" awards for TV spots promoting research on ALS. (02/09)
Blake Belde '80 (BS - Biology and Environmental Science) I'm still with USDA working on Superfund issues: cleanup of formerly used Defense sites on US Forest Service lands, the USDA member of the National Response Team for Oil and Hazmat spills and also the USDA Brownfields coordinator. I also work on land transfers to ensure that the government minimizes the acquisition of contaminated properties. After graduation from the Duke Nicholas School of Environment (known as Duke Forestry & Environmental Studies when I was there!) with an MEM, I settled back in Arlington and have been here since 1982. I'm very active playing clarinet still with DC's Different Drummers and singing with the Georgetown Chorale. I've also been involved in many diversity and civil rights initiatives here at USDA most recently rewriting the Departmental Regulation for Special Emphasis programs to include GLBT employees. (9/09)
Teena Hucul '81 (BS - Biology) Teena is a Clinical Pharmacist working at Southside Regional Medical Center in Petersburg, VA. Her daughter Kate is an RN in Cardiology at VCU Medical Center Hospital. Her son Patrick is a senior at JMU preparing for entrance to Physical Therapy School. Teena stays as close to water as possible, kayaking and boating in her free time. (9/10)
Sandra Seidel '81 (BS - Biology) Currently (since 2005) Assistant Dean and Associate Professor of Biology at UVa. (2/09)
Rebecca Miller Ironmonger '81 (BS - Biology) I am a veterinarian practicing in St. Mary's County, MD. My husband Mike (W & M 1971, chemistry) and I have 4 children. I work part-time: it's the best schedule! I see primarily dogs and cats, with the occasional rabbit, rat and/or guinea pig. The strong biology (and chemistry) background I got from William and Mary really prepared me well for veterinary school. (9/09)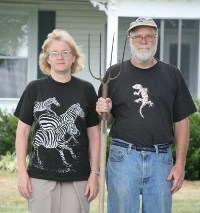 Susan Marks Schmidt '81 (BS - Biology) This is kind of a summary and catch-up from the last 30 years. I got my PhD in plant ecology from Duke University in 1987 and spent 19 years as a biology professor at Winthrop University in Rock Hill, SC. In 2009 my husband John Schmidt (also a biology professor) and I "retired"  and we and our sons (now 15 and 17 yrs old) returned to the Marks family farm in the Shenandoah Valley of VA. In the last 3 years we've been happily working on the house (built 1895), starting an orchard and garden, and we've had the time to be involved with our sons' when the boys are in college activities. I do some substituting as a high school librarian as well as serve as my religious organization's treasurer, so who knows what might become a second career for me? (11/12)
Sandy Seidel '81 (BS - Biology) Currently serve an Assistant Dean and Associate Professor of Biology in the College of Arts and Sciences at UVa. As an Assistant Dean, I monitor the academic progress of 700+ undergraduates students (first through fourth year) in the College as well as visiting international exchange students. I teach a non-majors course, BIOL 1210: Human Biology and Disease, which enrolls first year nursing students and College students seeking to partially fulfill UVa's math/science requirement. (12/09)
Leslie Tallon '81 (BS - Biology) Right after graduation, worked briefly in cancer research at a med school in Texas, then for plastics research. Got married and spent the next couple of decades raising 2 children. Also became master gardener during that time and worked at a local nursery. Eventually got divorced, used BS in Biology as springboard to Nursing degree, now work as Family Nurse Practitioner in the foothills of the Smoky Mountains, and am thankful every day for all I learned at W&M. My current interests include gardening, hiking, exploring, and healing, all of which were enhanced by my experience at W&M. (12/09)
Judith Pratt Rossiter '81 (BS - Biology) Still happily married to Kevin Rossiter ('79). Now "empty nesters" with one son at Univ of MD, College Park and one at NYU. Work-wise, department head of Ob/Gyn at a community hospital north of Baltimore, St. Joseph Medical Center. Also very busy clinically as a maternal fetal medicine specialist and medical geneticist. (9/09)
Matthew Bernart '82 (BS - Biology) For the past year, as Senior Chemist, I have been project manager for high performance thin layer chromatography as a fingerprinting method for botanical/herbal identification at Nature's Way Products. My William & Mary experience was excellent prep for this. (9/09)
Brent Greenwald '84 (BS - Biology) Currently living in Idaho Falls, Idaho and enjoying everything the great outdoors has to offer from snow-machining and cross country skiing to attending the women's annual mud volley ball tournaments during beer fest. I'm a solo practicing neurosurgeon in an environment where people are continual finding new and improved ways to hurt themselves in the great outdoors. (12/09)
John Dennis  '85 (BS - Biology) Has a new position as Director of Veterinary Services, US Food and Drug Administration, Center for Biologics Evaluation and Research, in Bethesda, MD. (10/12)Ryann Fame '06 (BS - Biology/Chemistry) I successfully defended my Ph.D. dissertation at Harvard University's Department of Molecular and Cellular Biology on 30 August 2012! It was a great occasion made possible by my undergraduate training at W&M. Thanks folks! (10/12)
Sharon Winn McKiernan '85 (BS - Biology) Sharon is a pediatrician and Army Colonel currently living in Oklahoma. Since residency she has served Soldiers and their families in Georgia, North Carolina, Oklahoma, South Korea, Germany,and Afghanistan. She and her husband, Brigadier General Brian McKiernan (Vanderbilt '86) have four daughters, ages 13,16,18 and 20. (10/12)
Bradley Miller '87 (BS - Biology) I am now a physician-scientist at Texas Tech University Health Sciences Center. My clinical duties involve laboratory medicine (medical biochemistry) and surgical pathology (working with surgeons and other physicians to make diagnoses on biopsy or surgical specimens). My subspecialty is neuropathology. I am also the associate director of the Garrison Institute on Aging, which seeks to improve healthy aging through research, community and education-related efforts. My laboratory examines genetic changes in single cells in aging-associated conditions, principally Alzheimer disease, Parkinson disease and cancer. I am also active in curriculum development, currently overseeing a reworking of the medical school curriculum to make consideration of sex and gender a primary part of the training medical students receive. I welcome contact from any W&M person who may have interests that take them to west Texas. (10/12)
Dave Davis '89 (BS - Biology) After 6 years as the Senior Wetland Ecologist for the Virginia Department of Environmental Quality (DEQ), I was promoted, in 2007, to Director of the Office of Wetlands & Water Protection at DEQ. I still get to play in the muck and mud a little, but not quite as often as I'd like.