Alumni Updates: Class Years 1960-69
Archive
Below are archived updates for alumni graduating between 1960 and 1969. Visit the main Alumni Updates page for more updates received this year. Month and date update received shown in parenthesis.
Rebecca Staton-Reinstein '62 (BS - Biology) My study in the Biology department in the early 60s laid a foundation for a life-long interest in science, the understanding of the scientific method as a way to think, and love of the natural world. I did graduate work in biochemical genetics and taught biology and other science in high school and college for many years. Then I took a new tack and explored new field. But it was the grounding in science that enabled me to get a Ph.D. in organizational development and then apply my analytic thinking skills first to computer programming and then management. Management? Yes, because a good manager tests out her theories and modifies them based on the evidence. I now run a strategic planning consulting business and just finished my second book. The research for that book drew heavily on my Wm & Mary experience, the rich history of Williamsburg, and the analytic discipline I developed as a student. The book is Conventional Wisdom: How Today's Leaders Plan, Perform, and Progress Like the Founding Fathers. I acknowledge my studies at Wm & Mary as part of my preparation to write the book. I'm grateful for the wonderful professors and their wisdom. I learned to think in new ways from them. (02/09)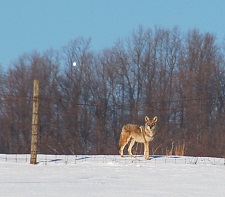 Dorothy Guild Tompkins '62 (BS - Biology)
 I am currently president of the 
Rivanna Master Naturalists
 and of 
Piedmont Master Gardeners
, leading a group of Junior Naturalists and participating in other RMNvolunteer projects. My grandchildren have inherited my loved of nature; we have great fun together outdoors. The birding is great where I live, but we also have three packs of coyotes, bobcats, and the usual foxes, turkeys, etc. [see photo, right!] (10/11)
Stephen Patrick Hayes '64 (BS -Biology) My professional life has taken some interesting turns since my undergraduate days. After graduating from the College of William and Mary with a BS in Biology in 1964, I became an intelligence officer with the United States Navy. From 1964-1971, my overseas assignments took me as far west as Yankee Station in the Gulf of Tonkin and as far east as the Tyrrhenian Sea off of the coast of Italy. After graduate school (MS, Biology, University of the Pacific, 1974; and, PhD, Aquatic Ecology, University of California, Davis, 1978), I pursued a career in water quality monitoring and analysis for thirty years. I ultimately retired from the California Department of Water Resources after having served as Chief of the San Francisco Bay and Delta Monitoring and Analysis Section for sixteen years.
My personal life continues to be centered around my family. My wife, Pegi, and I were married at Pearl Harbor, Hawaii in 1969, and we have lived in northern California since 1974. We are active in church and community activities, and continue to enjoy swimming, biking, and hiking. Our daughters, Aimee and Melissa, are moving forward in their careers, and live nearby. (12/10)
Gail Williams Wertz '66 (BS - Biology) Professor at UVA Medical School. Research on basic mechanisms of replication of negative strand RNA viruses - causative agents of 100's of human, animal, fish and plant diseases. Developed methods to genetically engineer viral RNA genomes to generate attenuated viral vaccine candidates. (10/09)
David Gapp '67, '70 (BS, MA - Biology)  I have been at Hamilton College now for 32+ years. I have recently been named the Silas Childs Professor of Biology, an endowed chair for the chemical and/or biological sciences. (10/11)