General Parking via Passport
The university has implemented Passport, a pay-by-phone app option to simplify visitor parking on campus. Visitors may park in any one of the designated areas and establish a pay-by-phone session to cover the cost of parking. The minimum session is two hours and the rate is $2.50/hr.
Parking for Undergraduate Admission Visitors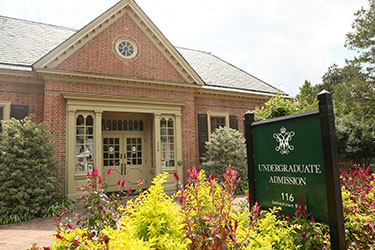 Convenient off-campus parking
During our heavy weekday visitation times, we recommend that you park off campus in the Colonial Williamsburg P6 parking lot located nearby at 410 Francis Street West. There is a $2 per hour fee, and our campus visitor parking permits are not honored.
Walking to the undergraduate admission office from P6
Exit the parking lot on the Francis Street side. Cross the street at the cross walk, and proceed left up to the corner by Berret's Seafood Restaurant. Turn right, and cross the street at the first cross walk. Follow the brick path up Jamestown Road to the admission office on the left. (If you were directed to a different building other than the admission office for the information session/tour, please follow the campus map directly to that building, or stop by the admission office for further assistance.)
Free W&M parking
Use the Admission Parking Lot and Plant Parking Lot located behind the undergraduate admission office, off of Grigsby Drive. After arriving, obtain a required parking permit from the admission staff OR use the email parking permit from the confirmation email sent to any registrant for an on-campus undergraduate admission event, session or tour. This provides for free parking in any space designated for admission visitors, faculty/staff, day student or metered spaces on campus. Free campus parking on weekdays may be limited. Please allow extra time for parking.
Handicap parking
Parking is available in the Legacy Circle Parking Lot directly across the street from the admission office on Jamestown Road.