Directions to Campus
Just look for the land of bricks and tri-cornered hats.
Big blue highway signs will be your friends as soon as you leave interstate 64 at exit 234 (if traveling from the west) or exit 242-A (if traveling from the east). If you're visiting a particular department, however, be sure to check the department website for more specific building and location information.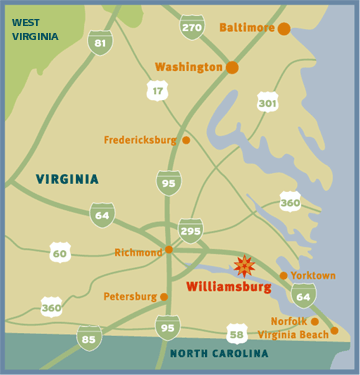 By Air or Train
There are three airports convenient to Williamsburg: Richmond International Airport (RIC), Norfolk International Airport (ORF) and Newport News/Williamsburg Airport (PHF). Richmond and Norfolk are each approximately one hour from William & Mary by car, and the drive from Newport News takes 40 minutes. The tunnel between Norfolk and Williamsburg can cause traffic delays, especially during rush hour.
Amtrak train service is available to Williamsburg. Rail travel can be especially convenient for travelers from New York, Philadelphia or Washington, D.C. Check Amtrak's special rates for campus visitors.
Directions to our Graduate Schools
Driving Directions to Campus
From the Richmond Airport and points west:
Interstate 64 East
Exit 234 to the right (199 East)
Travel 8 miles, then turn left down Jamestown Road
From the Norfolk Airport and points east:
Interstate 64 West
Exit 242-A (199 West)
Travel 5.2 miles, then turn right down Jamestown Road