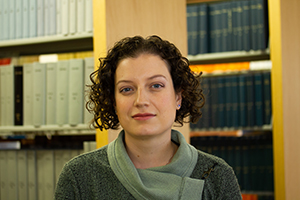 Emily Hein
Assistant Director, Research and Advisory Services
Email: eahein@vims.edu
Office: Watermen's Hall 250
Department: Office of Research & Advisory Services

View Emily's VIMS Directory site here.
As part of the Office of Research and Advisory Services, I respond to inquiries and requests from local, state, regional, and federal policy makers and regulators and provide marine science-based information and advice. I am regularly involved with shoreline and subaqueous permits reviews. Reviews and other advisory documents from our office typically involve various other VIMS scientists. I also represent VIMS on the Coast Guard-led Virginia Area Committee and serve as the co-chair of the Eastern Shore Subcommittee. These groups plan for and respond to hazardous material (including oil) spills in the waters of the Commonwealth.
I continue to be involved with various coastal geologic research projects, collaborating with VIMS scientists in the Coastal Geology Lab, Shoreline Studies Group, and the William and Mary Center for Archaeological Research. Recent projects have looked at various aspects of the evolution of the barrier islands of Virginia's Eastern Shore.
Current Committees and Service
VIMS Diversity and Inclusion (DiveIn) Committee and Policy Subcommittee
William and Mary Women's Network Executive Committee
William and Mary Women's Mentoring Network mentor
VIMS Vending Commission Discretionary Committee
Education
Bachelor of Arts in Earth Science from Boston University (BU)
Master of Science in Geology and Geophysics from the Massachusetts Institute of Technology / Woods Hole Oceanographic Institution (MIT/WHOI) Joint Program in Oceanography; thesis title: Quantifying overwash flux in barrier systems: an example from Martha's Vineyard, Massachusetts, USA